Sonia Narang IPS: She is bold super cop.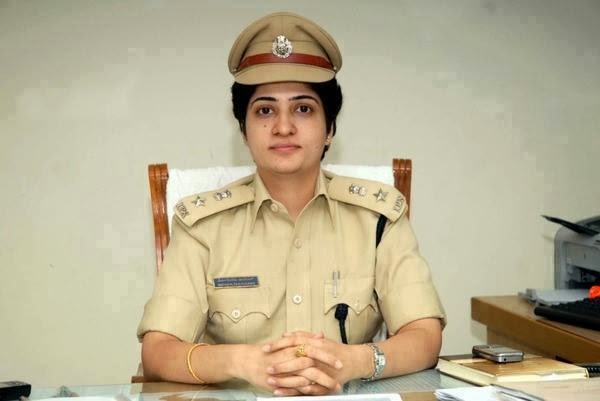 She's young, bright, has low tolerance for `powerful' troublemakers, asserts her authority confidently and is controversies' favourite child.

There was a time when a list of super cops would hardly ever have entertained a woman in its midst. Not anymore. Thankfully, the glass ceiling is well and truly broken in this terrain. Meet Sonia Narang, the IPS officer known across Karnataka for her forthrightness in the most audacious of circumstances. Presently, the Deputy Commissioner (South Division) of Bangalore. Her zero tolerance of anyone flouting the law has won her ample acclaim and even a little notoriety throughout the state.
A native of Chandigarh, she excelled in her studies in School and college and was a gold medalist in the Punjab University. Her father retired as a deputy superintendent of police. She cleared the civil services after two failed attempts in 2002.
At the Lal Bahadur Shastri Academy in Mussoorie she met her life partner, Ganesh Kumar while training for IPS. It was not a happy love story but all went on well and got married to him in 2005.
She has son Shaurya, she is very religious and never leaves home without performing the puja. Her husband is a IPS of the Bihar Cadre.
A native of Chandigarh, she comes from a police family. Her father A N Narang retired as a deputy superintendent of police. She excelled in studies in school and college. A North Zone topper in the 12th and a gold medalist in BA (hon), she secured the Punjab University Merit Scholarship and national scholarship from the HRD ministry for three years. She also has a Master's degree in Sociology through distance education.
HOW TO JOIN Indian Police Service (IPS) ?
The Indian Police Service (IPS) was formed in the year of 1948. It is one of the three All India Services.(The other two are Indian Forest Services and Indian Administrative Services). The cadre controlling authority for IPS is the Ministry of Home Affairs.
Cadre size: 3549 posts (direct recruitment – 70%, promotion 30%).
The selected candidates' training ground is at Sardar Vallabhbhai Patel National Police Academy.
Functions of IPS Officers
MUST READ THE FULL ARTICLE AT ===================<>>>>>>>>>>>>>>>>>>>
Indian Police Service (IPS)
The opportunity to provide instant relief to people made her set her mind on the civil services. After two unsuccessful attempts, she cleared it in 2002. Her father's police background and her staunch belief that a uniform commands respect made her choose the Indian Police Service.
Her first assignment, as a probationer in 2004, was at Gulbarga district and she had to manage the crime-ridden Afzalpur during that election year. Wasn't that tough for an inexperienced officer? "I worked hard and ensured order. The local politicians didn't have the courage to speak to me. It was challenging and I really enjoyed it," she says.
The next posting was at Bailhongal in Belgaum district. There, she had to control the people's wrath against the police over a custodial death at Ramdurg police station. "My personal goodwill made a difference," is her take on the matter.
In 2006 came her controversial stint, at Davanagere. Renukacharya created a furore accusing her of slapping him in public. Did she really do that? "We had imposed prohibitory orders but both Congress and BJP workers defied it and gathered at a place. As the situation was going out of control, we asked them to disperse in vain. We had to lathicharge and in the melee, he also got some blows," is all she says about it.
Quiz her on her frequent run-ins, especially with politicians and her explanation is: "I am fair to all. I go by the law. I am too straightforward. Yes, some times, it creates differences of opinion with some people. But, in my experience, most politicians want senior officers to be fair."
HOW TO JOIN Indian Police Service (IPS) ?
The Indian Police Service (IPS) was formed in the year of 1948. It is one of the three All India Services.(The other two are Indian Forest Services and Indian Administrative Services). The cadre controlling authority for IPS is the Ministry of Home Affairs.
Cadre size: 3549 posts (direct recruitment – 70%, promotion 30%).
The selected candidates' training ground is at Sardar Vallabhbhai Patel National Police Academy.
Functions of IPS Officers
MUST READ THE FULL ARTICLE AT ===================<>>>>>>>>>>>>>>>>>>>
lndian Police Service (IPS)