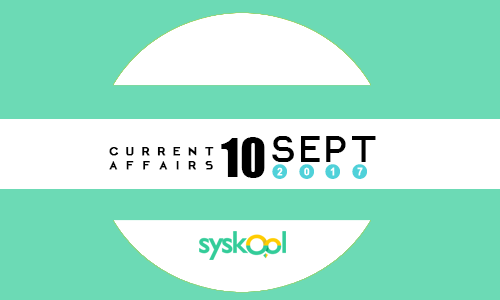 NPS upper age raised to 65
PFRDA has raised the age limit for joining NPS scheme to 65 years.
Earlier the age limit to join National Pension Scheme was 60. The Pension Fund Regulatory and Development Authority or PFRDA is a regulating body for this social security scheme.
The objective is to open up pensions to sectors for more and more people so they can get income security in old age.
---
China to ban petrol cars
China is looking forward to putting a limited ban petrol and diesel cars in the country.
This move will boost electric vehicles manufacturing significantly. China has already introduced draft regulations compelling automakers to produce more electrically-powered vehicles by 2020 through a quota system.
Earlier, France and Britain has outlawed the sale of petrol and diesel cars & vans from 2040 to clamp down on harmful emissions.
---
Pak opens China backed nuke power plant
Pakistan has inaugurated its fifth Nuclear power plant C-4. This plant was developed in collaboration with China and located at Chashma in Mianwali district of the Punjab province.
Pakistani Prime Minister Shahid Khaqan Abbasi mentioned that the nuclear plants were a source of cheap energy and Pakistan would work on setting up more such plants.
---
 Rafael Nadal wins US Open
Rafael Nadal defeated  Kevin Anderson (World No. 28) to win his third US Open title.
He ranks second in the total number of Grand Slam Titles win. Nadal has 16 Grand Salm titles and Roger Federer has 19 Grand Slam titles.
 Prior to this, he has also lifted his second grand slam title of 2017 after French Open in June.
---
Saudi Arabia suspend dialogue with Qatar
Saudi Arabia has suspended dialogue with Qatar after a phone call between the Qatari leader and the Saudi crown prince.
The two sides had discussed holding talks to resolve the Qatar crisis, which has seen Doha cut off from Saudi Arabia, Bahrain, Egypt and the UAE.
The development came after US President Trump spoke separately with the leaders of Saudi Arabia, Qatar & UAE.
---
Stephens wins 2017 US Open title
Sloane Stephens defeated Madison Keys in the final of the 2017 U.S. Open. to win the first major title of her career.
Sloane Stephens is 24 years old, she was at 967th rank 6 weeks ago.
After 2002, it was again an all for the first time all American final in US Open women's singles.