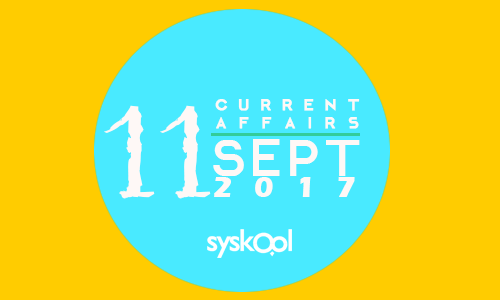 Defence Minister  flags off Navika Sagar Parikrama :
Navika Sagar Parikrama, a circumnavigation expedition by an all woman Indian navy crew was flagged-off by Defense Minister Nirmala Sitharaman at the INS Mandovi Naval Training base near Panji.
The six-member crew led by Lt. Commander Vartika Joshi will sail in INSV Tarini, a 55 ft. vessel built by M/S Aquarius Shipyard Pvt. Ltd. The expedition is expected to be completed by April 2018.
The circumnavigation is to be covered in five legs, with the stopover at four ports in Australia, New Zealand, Falklands and South Africa.
---
Integrated Cargo terminal to come up at Imphal Airport :
An Export-Import Cargo Terminal (EICT) is being constructed at Tulihal, Imphal airport by Airport Authority of India (AAI).
Ministry of Commerce and Industry is providing grant- in-aid of Rs. 12.96 crore for its construction under Trade Infrastructure of Export Scheme (TIES).
The project is expected to give a boost to the export of handicrafts items and perishable goods.
EICT will help establish better connectivity with South & Southeast Asia and give a boost to trade between India and the ASEAN countries.
---
Hillary Montes and Tenzing Montes, two mountain ranges on Pluto :
International Astronomical Union (IAU) has approved the naming of two mountain ranges on the dwarf planet after Edmund Hillary (1919-2008) and Tenzing Norgay (1914-1986).
Tenzing Norgay, the Indian/Nepali Sherpa and Edmund Hillary, the New Zealand mountaineer were the first to reach the summit of Mount Everest and return safely.
The two mountain ranges are the part of 14 features on the planet which were discovered following a 2015 flyby by New Horizons.
New Horizons: The NASA's interplanetary space probe mission launched in 2006 to perform a flyby study of the Pluto System in 2015.
---
India successfully tests 3rd Generation ATGM – NAG :
NAG, an indigenously developed third generation Anti Tank Guided Missile(ATGM) was successfully tested by DRDO twice against two different targets.
It is expected to give a boost to Indian Armed forces and will prove to be an important weapon in India's arsenal.
This success is in sync with the changing security dynamics in India's neighborhood.
NAG is third generation fire and forget missile.