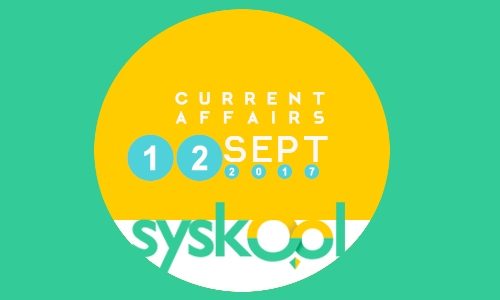 India's first advanced Homoeopathy virology lab inaugurated in Kolkata :
AYUSH Minister Shri Shripad Yesso Naik inaugurated India's first State of art virology laboratory at Dr. Anjali Chatterjee Regional Research Institute for Homoeopathy in Kolkata.
The laboratory, established at a cost of Rs. 8 crore is the only one in India for developing new drugs and technologies in Homoeopathy to combat emerging challenges of viral diseases like influenza, Japanese encephalitis, dengue, chikungunya and swine flu.
---
MoWCD invites nomination for Nari Shakti Purushkar 2017:
Nari Shakti Purushkar, instituted in 1999 is the "Highest Civilian Honor for Women" presented by the President every year on 8th March (International Women's Day).
The objective of the award is to acknowledge and recognize women who have exceeded expectations to challenge the status quo and make a lasting contribution to women's empowerment.
These awards are conferred to individuals and institutions in recognition of their service to the cause of women.
The last date for receipt of nominations is October 15th, 2017.
---
Ultra-thin spacecraft to remove space debris:
US based Aerospace Corporation is developing Brane Craft, a 10 micron thick (half the thickness of human hair) bullet-proof sheet to get rid of the space debris.
The spacecraft will work by enveloping the junk in Earth's orbit and dragging it through the atmosphere to burn it up.
Space debris are a potential threat to satellites and astronauts. And according to one of the NASA's estimate, there are around 50000 pieces of them floating around the earth.
---
FoSCoRIS: An Online platform launched by FSSAI for food inspection and sampling :
FoSCoRIS is a nationwide online platform launched by Food Safety and Standards Authority of India (FSSAI) to bring transparency in food safety and sampling.
The new system will bring all key stakeholders together on a single platform and will also help to share real time data related to inspection, sampling and test results seamlessly among its officials and other interested parties.
FSSAI has asked state governments to move to this system to help eliminate discrepancies and make Food Safety Officers (FSOs) accountable.
About FSSAI:

A Statutory body established under Food Safety and Standards Act 2006.
Works under Ministry of Health and Family Welfare.
Its function is to ensure availability of safe and wholesome food for human consumption.
The authority has its headquarter at New Delhi along with 6 other regional offices located at Delhi, Guwahati, Mumbai, Kolkata, Cochin and Chennai.

---

You may also like to read: Current Affairs – 11 September 2017