Cabinet approves Zojila tunnel project
The government approved the Rs 6,809-crore strategic Zojila pass tunnel project in Jammu and Kashmir to provide all-weather connectivity between Srinagar, Kargil and Leh.
Zojila pass is situated at an altitude of 11,578 feet on Srinagar-Kargil-Leh National Highway.
---
CCEA approves Jal Marg Vikas Project on NW-1
The Cabinet Committee on Economic Affairs (CCEA) has approved implementation of Jal Marg Vikas Project (JMVP) for capacity augmentation of navigation on the 1,380-km Haldia-Varanasi stretch of National Waterway-1 (NW1) on Ganga River.
The project will be implemented at a cost of over Rs. 5,370 crore rupees with the technical assistance and investment support of the World Bank.
International Bank for Reconstruction and Development (IBRD) will provide loan of Rs 2,512 crore for the project.
Union government provide Rs 2,556 crore from budgetary allocation and proceeds from bond issue.
It is expected to be completed by March, 2023.
---
'Electoral Bonds' Scheme
The Government has unveiled the 'Electoral Bonds' scheme, which seeks to ensure the flow of clean money to political parties, without revealing the donors' names.
The electoral bonds will be a bearer instrument in the nature of a Promissory Note and an interest-free banking instrument.
The bonds can be purchased for any value in multiples of Rs. 1,000; Rs10,000; Rs1 lakh; Rs. 10 lakh; and Rs. 1 crore.
---
Bill to increase the salary of Judges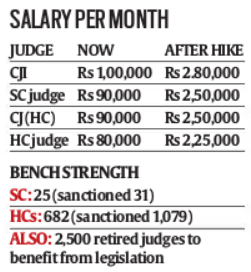 The Lok Sabha passed High Court and Supreme Court Judges (Salaries and Conditions of Service) Amendment Bill, 2017 to hike the salaries of judges of the SC and HC.
The salary hike in line with recommendations of 7th Pay Commission for officers of all-India services.
As of new bill proposed salary of CJI will be Rs. 2,80,000 a month, for Judges of Supreme Court and Chief Justices of High Courts it will be Rs. 2,50,000a month and for Judges of HC it will be Rs. 2,25,000 a month.
According to new bill allowance for CJI will be Rs. 45,000 a month, for Judges of Supreme Court and Chief Justices of High Courts it will be Rs. 34000 a month and for Judges of HC it will be Rs. 27000 a month.
It proposes pension of Rs. 16,80,000 per annum to CJI. Judges of the Supreme Court and Justice of High Court will get pension of Rs. 15,00,000 per annum.
---
Six New non-permanent Members in UNSC
Equatorial Guinea, Ivory Coast, Kuwait, Peru, Poland and the Netherlands formally joined the UNSC as non-permanent members after the vacancy created on December 31st when Egypt, Italy, Japan, Senegal, Ukraine, and Uruguay left their seats.
The UN Security Council has 15 members, including five permanent ones – Britain, China, France, Russia and the United States.