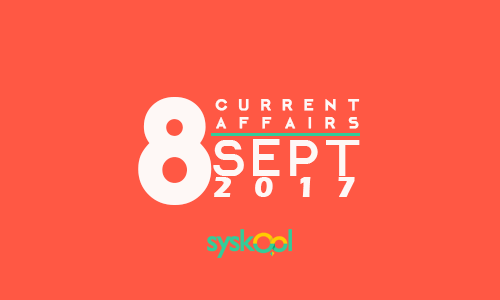 DIKSHA portal launched for Teachers
Vice President Venkaiah Naidu launched DIKSHA portal on Teacher's Day. It is a national digital infrastructure for teachers.
The aim of this portal is to enable, accelerate and amplify solutions in the realm of teacher education. The government has created this DIKSHA portal considering the whole teacher's life cycle – from the time student teachers enroll in Teacher Education Institutes to after they retire as teachers.
---
Kohli scores fastest to 15,000 runs
Virat Kohli scored 15,000 international runs in just 304 matches and became the only one to reach the milestone with an average above 50.
Kohli also became the third-highest run-scorer in T20s after he scored his 17th fifty in the shortest format.
Kohli achieved this score in 333 innings, earlier Hashim Amla was at top of the list, he did it 336 innings.
Kohli became the 33rd player to reach 15,000 runs.
---
No-cost visa for Myanmarese
Narendra Modi, during his joint press statement with Aung San Suu Kyi, announces that India will grant gratis (no-cost ) visa to Myanmar citizens wanting to visit the country.
Apart from many other announcements, he also announced in a goodwill gesture that India is going to release 40 citizens of Myanmar currently in Indian jails.
---
Express Group CMD Goenka elected PTI Chairman
The Press Trust of India (PTI) has elected Viveck Goenka, chairman and managing director of the Express group, as chairman of the country's largest news agency.
N Ravi, former editor-in-chief of 'The Hindu', was elected vice-chairman.
Goenka (60) succeeds Riyad Mathew, a member of the Malayala Manorama management, while Ravi (69) succeeds Goenka as the vice-chairman.
---
New India-Japan Defence Cooperation
During India-Japan annual defence ministerial dialogue in Tokyo,  India and Japan have agreed to collaborate closely in defence production, including on dual-use technologies. The two countries resolved to ramp up overall military engagement under the bilateral special strategic framework.
The two countries have also agreed to commence technical discussions for research collaboration in the areas of Unmanned Ground Vehicles and Robotics, to ramp up counter-terror cooperation, to deepen engagement among navies, air forces and ground forces.
India plans to buy the US-2 ShinMaywa aircraft from Japan for its navy. Last year, China had reacted angrily to reports that Japan plans to sell weapons to India at cheaper prices, saying that such a move is disgraceful.
Japan to boost defence ties comes amid escalating tension in the region in the wake of the nuclear test by North Korea and China's growing assertiveness in the South China Sea.