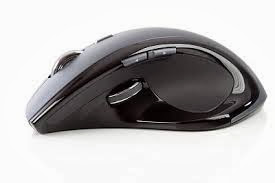 A mouse is a very important peripheral device in a computer which is used to move the cursor on the computer screen. It has several other buttons which are used to highlight a part of text, images or other information, to scroll pages, to click and open files, folders, etc.
In case of a wired mouse, the information from the mouse to the CPU and back are transmitted through a pair of wires. In case of wireless mouse, these pieces of information are exchanged through radio signals. To support this arrangement, there is a radio transmitter in the mouse and a corresponding receiver in the computer. The radio frequency receiver receives the radio frequency signals, decodes them, and then sends these signals to the computer
as normal. RF receivers usually come as built-in components that connect to the mouse input. In some cases, a separate card is installed in the computers.
Most wireless mice have integrated receivers that plug into a computer's peripheral input and are very small in size. Wireless mice mainly use radio frequencies at 2.4 gigahertz and at these frequencies a mouse can transfer data at very quick speed. Also there is very little or no interference in a work or home environment. They also have a good range of the order of 100 feet or so. Another technology that is used in wireless mice is Bluetooth RF technology. It uses 2.4 gigahertz frequencies. Bluetooth also has a decent range, usually about 20-30 feet.