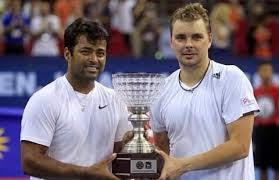 Leander Paes and Marcin Matkowski on 28 September 2014 won the ATP Malaysian Open men's doubles title.
The fourth seeded Indo-Polish duo defeated the second seed Briton-Australian partner, Jamie Murray and John Peers 3-6, 7-6(5), 10-5 in the summit clash played at Kuala
Lumpur.
This was the first title of the season for India's tennis ace Paes and 54th ATP title of his career. The win gave 250 ranking points to Paes and 25065 US dollars as prize money.
For Matkopwski, this was second Malaysian Open crown. He first lifted the trophy in 2009 with Mariusz Fyrstenberg. The 33-year-old Matkowski's 16th title.
Matkowski is the 98th different doubles partner for Paes, who helped him to clinch the 54th ATP title of his career.
Paes has won at least one ATP World Tour title each year since 1997 (54-37 finals record). Kuala Lumpur marked his first success since triumphing at the 2013 US Open with Radek Stepanek.
The 41-year-old Leander from India, owner of 14 Grand Slam titles from doubles and mixed doubles and his Polish partner played like seasoned team-mates as they came back from a set down to beat the British-Australian partnership of Jamie Murray-John Peers 3-6, 7-6 (7-5), 10-5 at Putra Stadium.