Dr. Syed Sehrish Asgar , 118th rank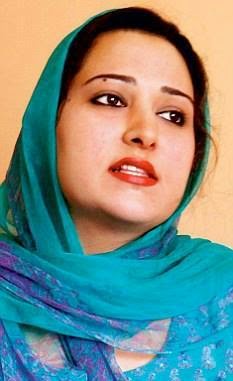 'Being a civil servant, I can be a 'doctor' for the whole society'
After finishing her MBBS degree, she topped the State Civil Service exams in 2011 and became the first woman in Jammu & Kashmir to achieve the feat.
Yet it did not stop her urge to achieve something bigger and she qualified for the IAS recently. Syed Sehrish Asgar has become a second generation civil services officer as her father, Syed Asghar was a 1977-batch Kashmir Administrative Service (KAS) officer, before joining politics and becoming an MLC. Having done her schooling from Presentation Convent in Jammu and being a topper all through, she joined Batra Medical College in 2003 and secured first position in the MBBS in 2009.
Dr Sehrish Asghar's grandfather Peer Nizam-ud-Din was a renowned social worker of Kishtwar in Jammu division and also an MLA from Kishtwar constituency. Her family is known for preaching religious teachings to the people of Kishtwar for several generations.
* What inspired you to join the civil service?
> My father who was in civil service was my motivation. There are no female role models who represent Jammu & Kashmir as most of the women here are in traditional fields. They are either being told to become doctors or teachers. I want to prove that women can do well in administration also.
* You topped the KAS exam last year. Did the idea of cracking IAS came to you after that or were you aiming for it even earlier?
> I prepared for each stage without taking pressure of success or failure of making the next grade. When I was in school I liked science subjects so much and that was the reason I joined MBBS. But in college I realised that if I became a civil servant I can be a 'doctor' for the whole society, which wasn't possible if I had only been a physician. I looked out for those who had already qualified these exams and interacted with them on how to go about it.
* Despite topping State Civil Service (SCS), you opted to take up the IAS…
> SCS is a prestigious service, but when you join IAS you get bigger platform for policy formulation. You can contribute at higher levels and that motivated me to go for IAS. More and more youth should serve the state in future so that the state will move forward on various developmental fronts.
* Was Shah Faisal (2009 IAS topper) your role model?
> Even after Faisal, people who qualified are the role models. When you look at your role models, you actually believe you can also do it.
* You are only the second woman from the state to qualify for IAS. How's the feeling?
> Obviously elated, but it has been a team work. My parents, friends and classmates have all contributed to my success. I am grateful to God.
* What's your advice to women candidates of the state who aspire to qualify for the civil service?
> My message is that their ability and intelligence, if not more, is equal to that of boys. Whosoever tells the girls that they aren't capable, they shouldn't listen to them and believe in their own abilities. Women are adept at making homes and careers as well.
Why can't they be good administrators?
* What is the reason that more candidates from J&K are taking up civil service now?
> Earlier there weren't a lot of role models. But now the number of role models is increasing. If you qualify, 10 others get motivated and when 10 qualify they motivate 100 others. And in the process it becomes a chain reaction.
* Tell us how your family supported you to achieve this goal?
> You need a lot of time to prepare for civil services which isn't possible without the full support from your family. My parents always helped me to the optimum. Being a doctor and telling my parents that I want to change my field was a big step. But they always encouraged me.
* What is your aim in life now?
> My aim is to serve the poor people of the state, particularly, the people of my home district Kishtwar.
* Of late female foeticide has become an issue in the state. As an administrator how do you look at it?
> Female foeticide is linked to degrading position of women in society. Orphan girls, prostitution and other social issues are linked with the female foeticide. And in any conflict situation women bear the brunt. Same is happening in our state also.
* Being a doctor and now a civil servant, what is your solution to this problem?
> Proper control mechanisms have to be put in place. It is an organised crime and a medical problem. It (female foeticide) can't happen without the support and help of doctors, para-medical staff and clinical labs. It is a racket which needs to be tackled properly.
* How do you react to people outside the state who think that Kashmir is burning due to internal conflict?
> Anti-social elements and people who don't want peace are less in number compared to people who want peace. They want peace, justice and development like the people of other states of the country. Anti-social elements are in every part of the world just like in Kashmir. So we shouldn't link everything happening in Kashmir with conflict. Kashmiris are peace-loving people and they too want development and other facilities like people in the rest of the world.