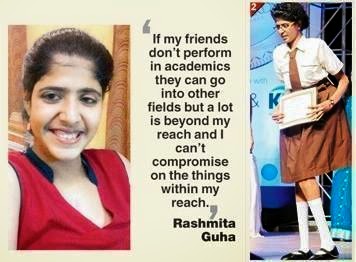 She kept deferring a critical spine surgery for two years so that she could write her ICSE exam.
The girl from Belur in Howrah was born with Marfin's Syndrome, a connective tissue disorder. By age 14 the disease had affected her heart, lungs, retina and spine. She gradually lost vision and has –22 power in her eyes. An aortic root dilation had swelled her heart to twice its size. To make it worse, kyphoscoliosis, a progressively deforming curvature of the spine, had twisted her body and rendered her immobile.
Doctors started fearing for her life. Prognosis wasn't good for Rashmita. Her determination inspired a team of doctors to try out two risky but life changing surgeries on her. They warned her that it might fail and the consequences would be terrible, but she decided to push ahead. All the medical advice said she would be deformed for life, but Rashmita simply refused to give up.
The first surgery, for her heart, was conducted successfully two years ago at The Mission Hospital in Durgapur but complications created by kyphoscoliosis persisted. Rashmita had a second open-heart surgery spanning 14 hours to repair four valves and the aorta.
The result: Rashmita, 15, had to endure acute pain after every couple of hours of sitting. She overcame the pain and discomfort to score 80 per cent.