POVERTY: THE BANE OF MODERN TIMES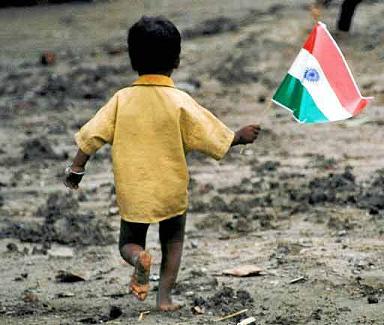 'Poverty' is measured by one's income according to the World Health Organisation (WHO), with regard to the access to barest minimum desirable nutritional standards of calorie intake. It is alarming to know that even by these standards, one in every four people is living below the poverty line. On one side, we have a fast progressing and the so-called 'vibrant economy', but on the flip side, we have a population that is still struggling to come to terms with poverty. We cannot ignore poverty, which in turn is a factor for many of the other social problems like hunger, spread of diseases, increase in crimes, etc., and to say that the world is progressing and developing, when around 1.4 billion people in the world are living in abject poverty, i.e. below the poverty line, would be more than a farce.
The World Bank measures poverty based on income, if your income is $1.25 or less a day, then you live in extreme poverty. Poverty is endured and created by people itself, and it is the responsibility of people to eradicate it.
Poverty' is the major cause of hunger-related deaths all around the world. According to the United Nations, about 25,000 people die every day from hunger, and many people do not have access to even a day's meal. Poverty is also a cause for the spread of many contagious diseases like pneumonia, tuberculosis, etc. These diseases are often curable, but the problem is that in poor villages or communities, there are often no doctors or health centres for treatment.
Read Also: Poverty : Concept and its Variants
Poverty is also indirectly linked to the spread of AIDS, one of the deadly diseases. AIDS kills approximately over 1.5 million people a year. AIDS is a preventable and increasingly treatable disease, but again poverty is a major hindrance in preventing this disease, as proper education about the prevention and treatment of AIDS is not accessible to the poor. Through proper education—in general, and about the spread and prevention of the disease, in particular—and proper medicine, AIDS has been brought under control in the developed countries. The same can be true for nations where AIDS is at its peak—AIDS cases abound especially, in poverty-ridden areas.
A child, who is born into poverty, undergoes extreme hardships during his growing up years. When he sees children of his age having and enjoying all the luxuries of life, then he thinks of short cuts to achieve those luxuries, which eventually leads to a criminal being born. Thus, the rise in crime graph of a city can directly be attributed to the rise in poverty.
The UN definition of poverty is—"Fundamentally, poverty is a denial of choices and opportunities, a violation of human dignity. It means lack of basic capacity to participate effectively in society. It means insecurity, powerlessness and exclusion of individuals, households and communities. It means susceptibility to violence, and it often implies living in marginal or fragile environments, without access to clean water or sanitation."
In today's modernised world where fast-food joints and malls have mushroomed in every corner of the city, we can still see people outside these complexes begging for food and money. We still see mothers with their infants on their shoulders begging for money at traffic lights. We ignore them and move on, sometimes dismissing them as criminals who are part of the begging mafia. In reality, do we care for them? Do we ever think, how their daily lives would be?
Must Read:  Niti Aayog Task Force on Eliminating Poverty
Nobody should be denied his/her rights to adequate housing, food, water and sanitation, and to education and health care. There have been initiatives from world organisations and governments all around the world to fight poverty. Initiatives like 'Food for Work', where people have been provided free meals for doing public works like road repairs, etc., are doing well. And, the initiative, 'Food for Education' provides meals to children for attending schools. This initiative promotes education as well as feeds die hungry children.
The Central Government has also implemented many schemes to benefit people living below the poverty line.
The Indira Awaas Yojana is one such social welfare scheme in which houses are being constructed for below poverty line (BPL) families in rural India. The broad purpose of the Scheme is to provide housing and financial assistance to some of the weakest sections of the society, for them to upgrade or construct a house of respectable quality for their persona] living.
The National Rural Livelihood Mission (NRLM) aims at creating efficient and effective institutional platforms for the rural poor, enabling them to increase household income through sustainable livelihood enhancements and improving their access to financial services. These schemes go a long way in alleviating sufferings of the poor by improving their living standards.
In Macro perspective, there are many organisations like the World Bank, the
UNICEF
and the American Red Cross Society, etc. which provide money, people and amenities to fight poverty. Numerous poverty reduction programmes can be seen in most developing countries, as these countries know that they cannot become 'developed' by denying a majority of people the basic needs to survive. These schemes include conditional cash transfers, micro-finance and rural employment guarantee scheme.
Conditional Cash Transfers (CCT) programme provide cash assistance to poor people based on some conditions that they need to fulfil, such as sending their children to school, having regular health check-ups, etc. This programme has been successful in many countries such as Mexico and Brazil, where school enrolment among poor has increased substantially, and education level among the poor has also increased. Education is one of the long-term means by which the poor would not remain poor any longer. CCT programme accounts for varying proportions of mean household consumption, ranging from 20 percent in Mexico to 4 percent in Honduras (World Bank, 2009). Evaluations "also show that CCT programme improves outcomes, related to health, nutrition and education.
Some other countries have also implemented this CCT pro granfie, but without any conditions in times of emergency. The cash-for-relief programme in Ethiopia, in response to insufficient rainfall in 2002 and 2003, provided small cash grants over a period of three to six months directly to the most vulnerable households. Evaluations of this project found that the cash grants were successful in regenerating the livelihoods of people living in affected communities; the grants had been used not only for consumption but also for reducing debts and increasing
land productivity. The programme also restored basic infrastructure, thereby ensuring the sustainability of the affected communities.
The Employment Guarantee Scheme is one of the most viable solutions to reduce poverty that most countries have implemented to have a long-term solution. These programmes aim to help people living in poverty, by providing them with paid employment in rebuilding affected areas after a disaster, or in creating needed infrastructure, which in turn enhances their welfare.
The majority of these programmes are temporary, but a few offer employment guarantee schemes that secure some minimum employment on an ongoing basis. In India, the
MGNREGS
(Mahatma Gandhi National Rural Employment Guarantee Scheme) aims at enhancing the livelihood and security of people in rural areas by guaranteeing hundred days of wage-employment in a financial year to a rural household which volunteers to do unskilled manual work. Poverty can also be reduced through land acquisitions to the poor. The land is a critical asset, particularly for die rural poor, as it provides a means of livelihood, and the landless are often among the world's poorest. In rural societies, landless or near-landless people, and people with insecure tenure rights often constitute the poorest and the most vulnerable groups. Poorer and marginalised groups tend to have secondary rights that rarely extend beyond use rights. In India, for example, over 30 percent of the landless and near landless live in poverty.
Micro-financing is another method by which poverty can be removed worldwide. Small loans are a very effective way to support communities around the world and make significant changes. The condition of poverty has been interpreted conventionally as a lack of access by poor households to the assets necessary for a higher standard of income or welfare, these are financial too—access to credit. The poor have to rely on loans from moneylenders at high-interest rates, or friends and family, whose supply of funds will be limited. Micro-financing institutions attempt to overcome these barriers through innovative measures such as group lending and regular savings schemes. The range of possible relationships and the mechanisms employed for micro-financing are very wide. Micro-finance as a mechanism for poverty reduction provides the poor with credit to finance productive activities that will provide income growth, provided there are no other binding constraints.
There is no reason, for people to go hungry, to die from curable diseases, to live an alienated life, to live a life without even having the basic amenities and to self-destruct themselves because of poverty. In Modern times when one part of the world is progressing and developing at a rapid pace, we cannot ignore the other part of human race. It is our duty to provide them with the support to stand up on their feet and live a dignified life in society.
As a coin with two indiscriminate faces, the world should be equal for one and all, irrespective of caste, creed, race and religion. The day this happens, we can proudly say that we live in the modern times.
Also, Read: