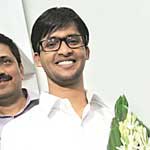 Ansar Shaikh a village boy from Jalna's Shelgaon is the son of an autorickshaw driver studied on his own to find his name in the merit list of Civil Services Exam conducted by Union Public Service Commission (UPSC) and achieved it by attaining All India Rank 361 in his first attempt.
Ansar Shaikh, when landed in Pune four years ago to prepare for the Civil Services Examination, faced a lot of hardship and social discrimination. "While hunting for a PG accommodations and mess I faced a lot of hardship, my friends who were Hindus got rooms but I was refused the moment I uttered my name and doors to all PG were slammed shut. So the next time, I was forced to change the name to 'Shubham', which was actually my friend's name to secure a roof over my head. Now I don't have to hide my real name," says Ansar Shaikh, remarking that this social rejection was "mortifying".
"It will be my mission to promote religious equality. Having myself been a victim of discrimination, I will strive to ensure that Hindu-Muslim unity transcends tokenism," says an earnest Ansar Shaikh.
Ansar Shaikh did not let the 'identity crisis' hold him back. He became even more determined to get into a system steeped in discrimination and bias and fight from within. "I never got angry or frustrated. In fact, I used to get motivated and inspired by all these things. It became a driving force during my preparation so that I can see myself there (at the top)," he said. Ansar Shaikh hopes to get into the coveted Indian Administrative service so he can do his bit to eliminate discrimination in society.
Ansar Shaikh's story is all about courage and determination. But it also highlights the biased mindset of society towards minorities.
Must Read: 10 UPSC Toppers 2016 – All You Need to Know
Family Background of Ansar Shaikh
Ansar Shaikh comes from the Shelgaon village in Jalna district in the heart of drought-hit Maharashtra's Marathwada region and considers the UPSC results as his "advance present" for his upcoming 22nd birthday on June 1. His father Yonus Shaikh Ahmad is an autorickshaw driver. His mother works in fields and the family lives in a rented home at Shelgaon. He has one younger brother, Anees Khan who had left school in standard seventh and started working in a grocery shop to support Ansar's expenses and defied all odds to send him money so Ansar Shaikh can chase the great IAS dream.
"Education has never been a watchword in my family. My father, a rickshaw driver, has three wives. My mother is the second wife. My younger brother dropped out of school and my two sisters were married off at an early age. In my family, education wasn't so important. When I told them that I had cleared the UPSC and in all likelihood will be an IAS officer, they were stunned shocked," said the gentle, bespectacled Ansar Shaikh, with a boyish smile that belies years of pain, hardships and struggles against seemingly insurmountable odds.
Ansar's parents were in tears when they came to know about the result and they did not believe that their son has made this great achievement. They were highly delighted and proud of Ansar Shaikh. Ansar's house did not even have a lamp when the reporters visited his house for the interview his brother had to rush to the (Majid Shaikh) a corporation of the local civic body of the Jalna to arrange the lamp for the interview session.
Read Also: Meet Tina Dabi IAS Topper 2015 – 2016
Educational Background
Ansar Shaikh completed his early education from Zillah Parishad School (Marathi medium). He was an exemplary student and had secured 91 per cent in his Class X exams. He did HSC from Barwal College in Arts stream and got 100 out of 100 marks in Sanskrit. Ansar Shaikh came to Pune to pursue Bachelor of Arts in Political Science and got graduated from Fergusson College, Pune.
Ansar Shaikh prepared for UPSC Exam at a private coaching class against great financial odds but never lost sight of his goal. Ansar's father had to sell the house for his IAS coaching classes. He attributes his success to his family and friends.
Ansar Shaikh opted for Political Science as his optional subject for UPSC and he cracked it at the first go, securing rank 361 in the merit list.
Also Read: Tina Dabi tops UPSC Civil Services 2015-16 Results
Attempts
Ansar Shaikh, the son of an autorickshaw driver, cleared the IAS in his maiden attempt, snaring All-India Rank of 361. Since then, the media has thronged his lodgings in the city in a bid to capture his inspirational and remarkable personal struggle.
Preparation Strategy
Driven by sheer will, Ansar Shaikh worked for 12 hours a day straight for three consecutive years while preparing for UPSC Exam. Added to these burdens, he faced the stigma of social discrimination and turbulent family life which he triumphed with a strength of character extremely rare for a youth of his age. Ansar Shaikh used to remain without food for 2-3 days as his financial condition was very poor. Ansar Shaikh set his goal to become an IAS officer when he was in 10th and was inspired by his teacher who has cleared MPSC.
"There is no alternative to hard work. During my struggle, my friends helped me a lot mentally and financially and even my coaching academy waived a portion of fees due to my poor financial condition," said Ansar Shaikh.
Besides his father, his younger brother Anees also helped a lot. His younger brother quit school so Ansar Shaikh could become an IAS officer. His bitter, first-hand tryst with social ostracisation has made a deep influence on Ansar Shaikh.
Don't Miss: Read Success Story of Artika Shukla IAS, AIR-4, 2015