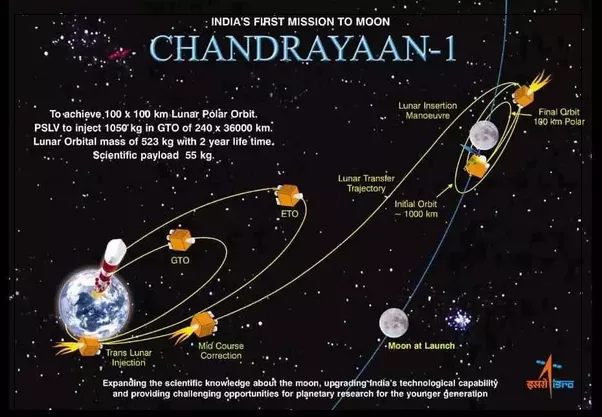 Chandrayaan-1 was India's first unmanned lunar probe. It was launched by the Indian Space Research Organisation in October 2008 and operated until August 2009. The mission included a lunar orbiter and an impactor. India launched the spacecraft using a PSLV-XL rocket on 22 October 2008 from Satish Dhawan Space Centre. The mission was a major boost to India's space program, as India researched and developed its own technology in order to explore the Moon. The vehicle was successfully inserted into lunar orbit on 8 November 2008.
India planted its flag firmly in the lunar soil on November 14, 2008, when its Chandrayan-1 orbiter fired its Moon Impact Probe onto Earth's natural satellite.
Must Read: ISRO Unveils Hub for its Navigation Fleet
The Indian Space Research Organisation (ISRO) calls the Moon flight project Chandrayan Pratham, which has been translated as First Journey to the Moon or Moonshot One in ancient Sanskrit.
Chandrayaan's Moon Mineralogy Mapper has confirmed the magma ocean hypothesis, meaning that the Moon was once completely molten. The Chandrayaan-1 payload has enabled scientists to study the interaction between the solar wind and a planetary body like the Moon without a magnetic field.
In its 10-month orbit around the Moon, Chandrayaan-1's X-ray Spectrometer detected titanium, confirmed the presence of calcium, and gathered the most accurate measurements yet of magnesium, aluminium and iron on the lunar surface.
The lunar mission carried five ISRO payloads and six payloads from other space agencies including NASA, ESA, and the Bulgarian Aerospace Agency, which were carried free of cost.
Chandrayaan stopped sending radio signals on 29 August 2009 shortly after which, the ISRO officially declared the mission over. Chandrayaan operated for 312 days as opposed to the intended two years but the mission achieved 95 percent of its planned objectives. Among its many achievements was the discovery of the widespread presence of water molecules in lunar soil.
ISRO is currently developing a second version of Chandrayaan named Chandrayaan-2 possibly to be launched in 2016. The Indian Space Research Organisation (ISRO) plans to include a robotic rover as a part of its second Chandrayaan mission. The rover will be designed to move on wheels on the lunar surface, pick up samples of soil or rocks, do on-site chemical analysis and send the data to the Earth via the Chandrayaan-2 orbiter, which will be orbiting the Moon.
Also, Read:
India Launches 6th IRNSS Satellite You Need to Know