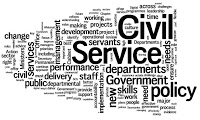 The Indian Civil Service forms the backbone of the Indian government machinery & constitutes all the major departments which run the state & central administration. The three types of services recruited through the Civil Service Examination are All India Services, Central Services, and State Services. To know more about the complete list of services and their posts and pay scale check the CS List of Services.
The Civil Services examination is one of the most prestigious examinations conducted by
UPSC
. Historically it has been of the most sought after career by young and talented individuals. It has not lost its prestige value amidst the recent popularity of IT and management careers. Civil Services is also popularly known as the IAS exam or the UPSC exam and is considered one the
toughest competitive exams
in the world with the success rate of just 0.1%.
The examination procedure consists of three phases, Preliminary (held in May), Main (held in October/November) and Interview (held in March/April). Every year around 4 lakh people can apply (only 50% that is 1.5-2 lakh actually appear in the preliminary exam) for about 900 vacancies. Thus, this whole process of selection takes almost one year. For more information about the examination process, check the Exam Pattern and Exam Instructions.
The approximate number of vacancy for the year 2010 is 965.
Preparation of Civil Service takes a lot of perseverance, hard work, time management, and proper guidance. For more information about the optional subjects, syllabuses, and previous years' question papers, check the respective links.
Must Read: