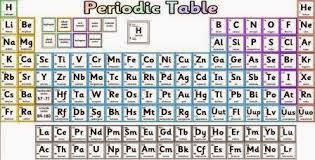 Periodic Table is a table of the chemical elements arranged in order of atomic number, usually in rows, so that elements with similar atomic structure (and hence similar chemical properties) appear in vertical columns.
Must Read: Famous Chemists
Facts About Periodic Table
While Dmitri Mendeleev is most often cited as the inventor of the modern periodic table, his table was just the first to gain scientific credibility and not the first table that organized the elements according to periodic
properties.
There are 90 elements on the periodic table that occur in nature. All of the other elements are strictly man-made.
Technetium was the first element to be made artificially.
The International Union of Pure Applied Chemistry, IUPAC, revises the periodic table as new data becomes available. At the time of this writing, the most recent version of the table was approved 19 February
2010.
The rows of the periodic table are called periods. An element's period number is the highest unexcited energy level for an electron of that element.
Columns of elements help to distinguish groups in the periodic table. Elements within a group share several common properties and often have the same outer electron arrangement.
Most of the elements on the table are metals. The alkali metals, alkaline earths, basic metals, transition metals, lanthanides and actinides all are groups of metals.
The present periodic table has room for 118 elements. Elements aren't discovered or created in order of atomic number. Scientists are working on creating and verifying element 120, which will change the appearance of the
table.
Although you might expect atoms of an element to get larger as their atomic number increases, this does not always occur because the size of an atom is determined by the diameter of its electron shell. In fact, element atoms usually decrease in size as you move from left to right across a row or period.
The main difference between the modern periodic table and Mendeleev's the periodic table is that Mendeleev's table arranged the elements in order of increasing atomic weight while the modern table orders the elements
by increasing the atomic number.
Carbon is unique in that it is known to form up to 10 million different compounds. Carbon is important to the existence of life.
Francium is the rarest element on earth. There are probably no more than a few ounces of it on earth at any given time.
The only letter not in the periodic table is the letter J.
The country Argentina is named after the element silver (symbol Ag) which is Argentum in Latin.
Although there is helium on Earth, it was first discovered by observing the sun.
Mendeleyev's table had blank spaces, he correctly predicted the weights and chemical behaviors of some missing elements—gallium, scandium, and germanium.
When argon was discovered in 1894, it didn't fit into any of Mendeleyev's columns, so he denied its existence—as he did for helium, neon, krypton, xenon, and radon.
Must Read: