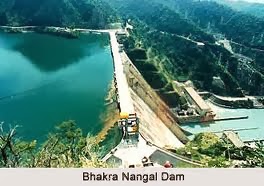 Bhakra Nangal Project
It is on Sutlaj river in Punjab. It is dam highest in India with a height of 226 meter. Reservoir is called Gobind Sagar Lake.
Mandi Project
On Beas in Himachal Pradesh.
Chambal Valley Project
On Chambal river in Madhya Pradesh and Rajasthan. Three dams are there:
Gandhi Sagar Dam
Rana Pratap Sagar Dam
Jawahar Sagar Dam
Damodar Valley Project
On Damodar in Bihar. Based on Tennessee Valley Project, USA.
Hirakud Project
On Mahanadi in Odisha. World's longest dam: 4801 meter.
Rihand Project
On Son in Mirzapur. Reservoir is called Goind Vallabh Pant reservoir.
Kosi Project
On Kosi river in North Bihar.
Mayurakshi Project
On Mayurakshi river in West Bengal
Kakrapara Project
On Tapi in Gujarat
Nizamsagar Project
On Manjra in Andhra Pradesh
Nagarjunasagar Project
On Krishna in Andhra Pradesh
Tungabhadra Project
On Tungabhadra river in Andhra Pradesh and Karnataka
Shivsamudram Project
On Cauvery in Karnatka. It is the oldest river valley project of India (1902).
Tata Hydel Scheme
On Bhima in Maharashtra.
Sharavathi Hydel Project
On Jog Falls in Karnataka.
Kundah and Periyar Project
In Tamil Nadu
Farakka Project
On Ganga in West Bengal. Apart from power and irrigation it helps to remove silt for easy navigation.
Ukai Project
On Tapi in Gajarat.
Mahi Project
On Mahi in Gujarat.
Salal Project
On Chenab in Jammu and Kashmir.
Mata Tilla Multipurpose Project
On Betwa river in Uttar Pradesh and Madhya Pradesh.
Thein Project
On Ravi river in Punjab.
Pong Dam
On Beas river in Punjab.
Tehri Project
On Bhagirthi river in Uttarakhand
Sardar Sarovar Project
On Narmada river in Gujarat and Madhya Pradesh.