Interview with ADGP Karuna Sagar IPS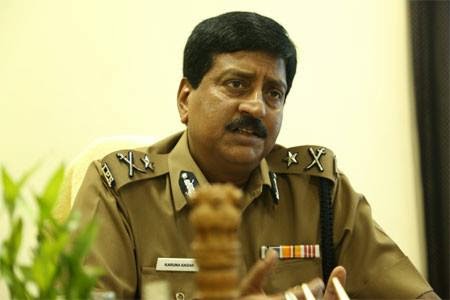 Shri. Karuna Sagar is the Additional Commissioner of Police, Traffic, Chennai. He joined Indian Police Service in 1991 and presently heads the Traffic wing of Chennai police.
He has held several positions including that of DIG of Police, Crime Branch CID; Chennai, DIG of Police, Armed Police, Chennai; Commissioner of Police, Thirunelveli; and Commissioner of Police, Trichy.
In an exclusive interview with Marie Banu, Shri Karuna Sagar IPS talks about his passion towards social causes.
* What motivated you to become a police officer?
> Basically, I come from Bihar. We have seen what a good law and order can do to a State and what a bad law and order can do. I was very interested since my early school days to join the Indian Police Service, since I thought that police has a big role in terms of being a social changer; creating a consumer atmosphere; and creating a society where there is equality of law.
* We recently saw a discussion on whether Sanjay Dutt can be relieved from punishment. You can have sympathy for one person, but law has to be blind. If you are talking about one individual, what about the human rights of those who have been convicted earlier?
> I think IPS gives you an excellent platform to transform your ideas into concrete action, and that is the reason why I wanted to join.
* What did you study in College?
> I did my Graduation as well as Post-graduation in History from Delhi University. History is a subject I am very passionate about. Because, it tells you everything that happens in society—all the changes, all the events, all the developments, and the progression in society is chronicled in History. I consider it as a holistic subject that gives you a perspective of many things – science, art, literature, social developments.
* Which of the social issues are you passionate about?
> I am very passionate about equality before law. Wherever I take charge, the first thing I tell my officers is that the weaker section of the society (whether they are minorities or SC or ST or women or elderly or disabled or those who are somehow disadvantaged in the social system), should be given due protection and we have to be very proactive.
I am very passionate about social issues. In fact, all my readings are books that deal with social issues. I am very alive about what is happening in society and I closely watch.
* Police and Social work – Your thoughts?
> I think that policing is a tool to do something good for the society as a whole. It is a very strong mechanism where you can deliver. You can make sure that a rape victim gets quick and correct justice; and we can interfere when an old man or old woman is badly treated by his or her children. The kind of interference powers that police have is phenomenal and we can do tremendous amount of social work by being in the police.
* In case of any natural or man-made disaster, it is the policemen who are the first to engage in rescue operations. Is there any ongoing disaster preparedness programme that your department engages in?
> We do coordinate disaster management programs for our department from time to time. But, the way we have been trained to work, we know how to respond to a disaster. For instance, if a flood or tsunami occurs, the policeman is going to be first person to respond. In case of a fire accident, even before the fire tender reaches the spot, the policeman arrives here. So, we know that we are the first responders. Being the first responders there are certain kind of actions which is expected of us, and those things we do.
There is a lot of talk about Disaster Management. The State and the Central Government have a Disaster Management committee and there is a National Disaster Management Force which is now operational all over our country. A structured force is always welcome, but to cover one lakh police force in Tamil Nadu will take some time.
* The city traffic is chaos during peak hours, and more during school hours. Do you think that like school uniform and common syllabus a compulsory school bus service could make the traffic scene better at least for the school going children?
> Actually, that is a wonderful idea! The schools today are established in busy localities. They were established 20 or 30 years back. For example, Don Bosco at Egmore, there is no space for parking except on the road. So, when the parents come to drop and pick up their children there is traffic congestion.
If you take one car, you will be taking one student; whereas one bus can carry 50 to 60 students. It is to that extent we can reduce congestion and a bus may take the space of three cars. Therefore, it is a very logical idea. It makes all the sense in an urban living today. We are talking about car pools for gentlemen who are in services. So, for children to have a mass transportation system is absolutely the best thing to happen.
Unfortunately, the Traffic Police cannot enforce this rule as I do not have the powers. The decision has to be taken by the school management and the authorities.
* About the health of the policemen, especially police women who serve on bandobust duty for several hours with no proper toilets nearby. What steps have been taken by your department to address this issue?
> For women, the toilet access is definitely an issue. But, there are posted only for a short time. I don't have regular women manning the traffic. It is only during major bandobust that we assign them. At the most, they would spend two to three hours a day. We arrange to pick them up and dropped them back to their place of duty.
More so, the women traffic police are aged between 21 to 25 years. They are young, smart, and physically fit. They are from the Tamil Nadu special police and have just joined the force.
For the other traffic police—we are providing them with buttermilk twice a day and giving them pith hats so that they do not suffer from heatstroke. I am also trying to revamp my traffic umbrellas so that they are better. The signal controls will be transferred to the umbrellas so that the policeman can sit and man the traffic.
* Your advice for social workers?
> One of my passions is Social Work. I think that the whole NGO system is extremely important. They should be above pettiness, above corruption, and deliver the goods. Because, they have been tasked to deliver the goods where the governments' reach does not transcend.
Right now, at my level, I do small things with the help of other NGOs. In the future, I plan to involve myself in Social Work in a big way.