Against all the odds Prasad Akkanouru achieved his dream of becoming a Civil Servant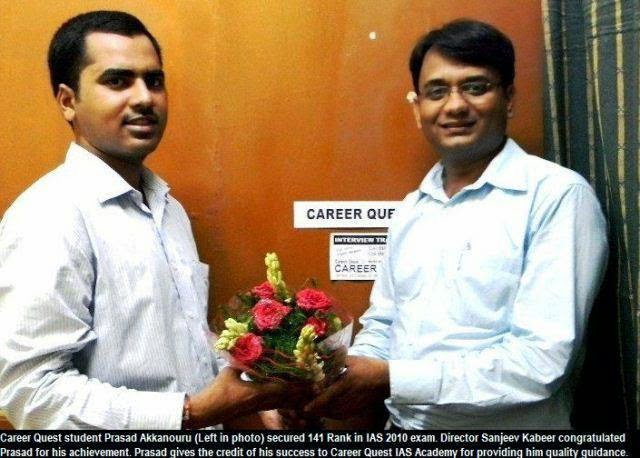 In this year's IAS merit list Prasad Akkanouru is probably the only aspirant, who passed this coveted exam despite many difficulties.
– After completing 10th class from Latur, he did ITI Electrician course for secure future. It was his parents wish.
– His family members wanted him to become a teacher by doing a D.Ed. Course after 12th. But Prasad wanted to become a officer through civil services exam.
– He left home to fulfill his dream of IAS officer.
– He boarded the train to Nagpur, the city, which was unknown to him.
– After reaching in Nagpur, he went to many unknown people for job. Here he got his first job of a waiter in a small roadside hotel.
– He took admission in a school in 11th class by selling a gold chain, his only asset.
– After a work of 10 hours, he used to study hard in the night. He did that for two years.
– His strong determination and perseverance paid him off. He secured 12th class merit list.
– Media in Maharashtra took notice of Prasad's achievement. His photos published in the newspapers and flashed on news TV channels.
– Because of this media attention, his family members came to know about his location. Till then there was no contact with the family for two years.
– At that time he told media that his dream is to become an IAS officer.
– Pune based NGO took responsibility of providing him facilities in Pune to complete his graduation.
– During the graduation, he started IAS preparation. He completed graduation with distinction.
– After graduation, he was willing to go Delhi for guidance. The financial condition was the big hurdle for him.
– He went to many people for financial help. After continuous efforts of several months, some people extended their helping hand for Prasad. With that help, he came to Delhi.
– In Delhi, he faced many problems due to insufficient money. But he managed all the problems with great determination and focused hard work.
– In Delhi, he joined 'Career Quest'. Here he got timely guidance and motivation. According to Prasad, 'Interview (Personality Test) plays very crucial role in one's selection in Civil Services exam. I realized this during my third attempt. Guidance provided by Sanjeev Kabeer, Director, Career Quest IAS Academy was instrumental in my success in this exam.'
– Prasad said 'I was feeling a great pressure because of two unsuccessful attempts. Many people started telling me that one cannot pass this exam without paying a bribe! I never give attention towards the rubbish things like this. During this time, self-motivation was the key for me. On 11th of May 2011, a good news came to me! I passed this coveted exam with such an unexpected rank! It was a feeling of conquering the world. Now I can say that any one can pass this exam with determination and continuous hard work. Timely & right guidance is the key to IAS exam. 'Nothing is impossible' is my mantra.'