Meera Chadha Borwankar : First female IPS Officer in Maharashtra Cadre from Fazilka.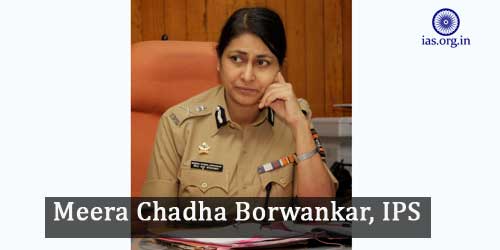 Another reason to feel proud for the entire community of this India's smallest big town Fazilka. Daughter of Fazilka, Meera Chadha Borwankar, for becoming the first ever woman to be posted as Commissioner of Mumbai Crime Branch in its 150-year-long history. To be a woman police officer in a force that has barely one or two per cent women is unique in itself; but to head an investigative force of 300 police officers is definitely a first. At present Meera Chadha Borwankar is working as Special Inspector General of Police, CID State Crime Branch, stationed at Pune.
Must Read: Career Path of an IPS Officer
Mumbai's Crime Branch is known as the premier department of the city's police force, handling the investigation of organized and white-collar crime, and law enforcement in the mega-polis. While it didn't exactly cover itself with glory during the Mumbai riots in the early 1990s, it has had to deal with the operations of rival underworld gangs remote controlled by Dawood Ibrahim, Chhota Rajan and even the don-turned-politician Arun Gawli. It has had to grapple with criminal cases against big film financiers like Bharat Shah, the ignominious Prevention of Terrorist Act (POTA) case against Mohammad Afroz and myriad encounters against gangsters by trigger-happy cops who call themselves 'encounter specialists'.
Educational Background of Meera Chadha Borwankar
Born and brought up in Fazilka, Meera Chadha Borwankar studies till matriculation from D.C Model School Fazilka. Her father, Mr. O P Chadha, was with the Border Security Force and Posted in Fazilka region till 1971 war. Later she completed her Master's in English Literature from Lyallpur Khalsa College and did her post-graduation from DAV College in Jalandhar, Punjab.Meera Chadha Borwankar was, by all accounts, a very good student and became head girl of her college. Later, she also studied Policy Analysis in Law Enforcement at the University of Minnesota, USA, was awarded the President's Medal for meritorious service in 1997, apart from the police medal and the Director General's insignia for meritorious service and Hubert Humphrey Fellowship (2001-2) in three decades of her policing career. During her stint with the state Crime Investigation Department from 1993-95, one of the important cases she investigated was the Jalgaon sex scandalWhile answering to a question about choosing IPS as her career, Meera Chadha Borwankar said "I was good at studies too, participating in plays, debates, etc. I was also in the Punjab Cricket Team". So, in general I grew up with no future thoughts, but I was sure I did not want my life to end with marriage. When I was in college, during '71-'72, Kiran Bedi had just joined the IPS and was creating waves. That is when, one day, my teachers called me and told me that they saw within me the potential for the IPS and that I should consider it as a career option. I completed my M.A. In English Literature, cleared my UPSC examinations and did my basic police training at SVP National Police Academy, Hyderabad. Meera Chadha Borwankar asserts that women are much more patient, resourceful and capable than men. All they need to do is throw away the yoke of selfdoubt and their own insecurities
In 1981, Meera Chadha Borwankar became an IPS officer of the Maharashtra cadre, served as Deputy Commissioner of Police at Mumbai between 1987-91, held independent charge of Aurangabad as District Superintendent of Police (and later of Satara in 1996-99) and was posted at the state CID crime branch in 1993-95. She worked with the Economic Offences Wing of the Central Bureau of Investigation (CBI) in Mumbai and was DIG of the Anti-Corruption Bureau of the CBI in New Delhi.
Also Read: Role of Civil Servants (IAS, IPS, IRS, IFS and IES)
She is married to Mr. Abhay Borwankar, who quit the Indian Administrative Service to start a food-processing business. She has two children and they presently live in Pune with family.Her immediate ongoing tasks are the extradition case of gangsters like Abu Salem and his partner Monica Bedi from Portugal, Iqbal Mirchi and Tariq Parvin from Dubai and Sharmila Shanbhag from Germany.
Entire Fazilka is proud on her achievements. It is wonderful to have such police officers in our country. We wish Fazilite Meera a bright and further satisfying career ahead. She would be a source of motivation to thousands of young girls in the country. We all know this upright and down-to earth and no-nonsense officer will achieve greater heights and fulfill her mission for the good of the nation! May God Bless Her in All Her Endeavors and Godspeed!
Don't Miss: Meet Atul Vikas Kulkarni, IPS – Inspirational Story