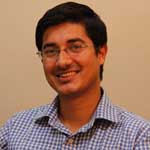 Setting an example for IAS aspirants, Rishav Gupta secured 37th rank in Civil Services Examination 2013 in his second attempt for the most prestigious position of Indian Administrative Services (IAS). Rishav's strong determination led him to become an IAS officer. Becoming an IAS offficer was the result of his, true struggle and hardwork.
Rishav Gupta's aim in life is to serve the society as long as he can. On the question of his role model, he replied that Rishav Gupta is deeply influenced by the lives of Swami Vivekananda, N. R. Narayana Murthy (the founding person of Infosys) and E.Sreedharan (the Metro-Man of India).
On getting success in the UPSC Exam 2013, Rishav Gupta says, "I was feeling very good because all of my investment in all the senses converted into a fruitful result and I am thankful to all of my teachers."
Must Read: Read UPSC Board Interview of Akash Patel IAS
Marks Obtained by Rishav Gupta
| | | |
| --- | --- | --- |
| | Total Marks | Marks Obtained |
| Total (Written) | 1750 | 644 |
| Interview | 275 | 217 |
| Total | 2025 | 861 (42.52%) |
Family Background
Rishav Gupta comes from a simple family background. His father is an engineer at Central Public Works Department (CPWD). His mother is a housemaker and he has one elder brother and he is a Hardware Engineer.
Also Read: Prakash Rajpurohit IAS UPSC Topper, AIR – 2 in 2009
Educational Background
Rishav Gupta did his high School from the St. Xavier's High School, Panchkula with 95.8% marks in 2004 and his Intermediate from Moti Ram Arya Sr. Sec School, Chandigarh with 89% marks in 2006. After completing his schooling he did Bachelor of Technology (B.Tech) in Electrical and Electronics Engineering from Indian Institute of Technology, Delhi (IIT-Delhi) in 2010.
Rishav Gupta wanted to become Civil Servant since his Engineering days. Playing Chess, Reading Books and Internet Surfing are some of his numerous hobbies.
Previous Experience
He worked with Royal Bank of Scotland thereafter as a Software Analyst in its Global Banking and Markets division. He also worked at Augment Systems as software engineer. Also at IITians Pace as Physics Professor.
Read Also: Topper's Story – Patna Girl Neha Prakash, IAS
Optional Subject
Rishav Gupta chose his optional subject as Physics.
Attempts
Rishav Gupta just could not make his place in the result list of 2012 in his first attempt. So he tried again second attempt in 2013 and got selected in Indian Forest Services with All India Rank 7. Also, for Civil Services Examination, he ranked 37th in the general list.
Rishav Gupta's five-step plan for Cracking Prelims
Just divide the remaining time in 2 halves and mark the bubbles on the end of 1st half.
In the 2 hour paper, after 1 hour mark the bubbles of the attempted questions. Low level of anxiety (1 hour is still with you) ensures avoidance of silly mistakes.
Now attempt the remaining questions and mark the bubbles after (½) an hour i.e. 1½ hour after starting of the exam.
Following this pattern mark the bubbles after 1 hour 45 minutes.
After this third marking of bubbles, you can switch to marking of bubble side by side with the attempt.
Rishav Gupta said that the coaching institutes helps the candidates in providing the right path but it is the sheer hard work of the candidates which ensure the success in the IAS Examination but at the same time he also said that they are not indispensible for the candidates. Rishav Gupta said that internet is indispensible for the Civil Services Examination preparation but also highlighted the probability of ending up in time wastage on internet. He underlined the importance of the good newspaper such as The Hindu and The Indian Express.
Must Read: Meet Tina Dabi IAS Topper 2015 – 2016
Message for Aspirants
The candidates should keep a flexible mindset to keep pace with the changes brought in by UPSC. The candidates should be capable enough to make a good answer irrespective of the format, word limit, time limit and the marks of the questions. So flexibility is necessary to achieve the success in the IAS Exam.
Rishav Gupta said the candidates end up in pilling the study material and books from various resources but are not able to revise the topics at the last moment. Rishav Gupta suggested to limit the study material and revise it more number of times. He stressed on limiting the resources to Study. He said that the candidates should restrict themselves to the necessary and sufficient study material and resources.
Don't Miss: Dr.Ruveda Salam IPS – First Women from Kashmir to Qualify UPSC Exam