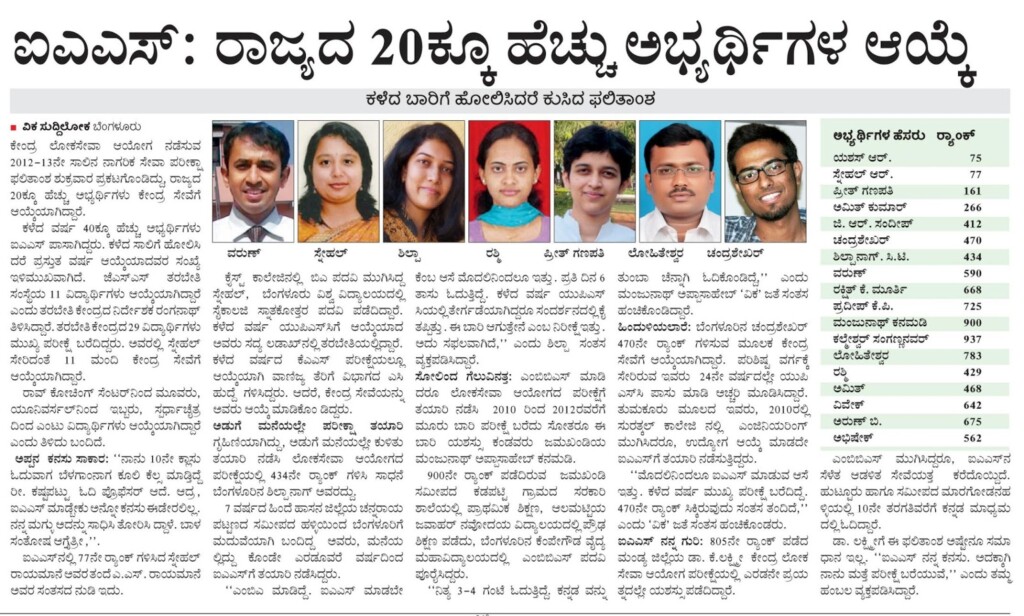 The final results of the Civil Services Examination 2012-13 were out on May 3, 2013 and as usual, they did not spring any surprise.Rather, they underscored the same trends that had been seen for quite some time. Like the previous years' results, this time also results showed that candidates from the technical background do well, as two of the top three candidates have technical background. The topper Ms. Haritha V. Kumar, 27, is a B.Tech. in Electronics and Communication from the University of Kerala and Dr. V. Sriram, the 2nd Position holder, is an M.B.B.S. from the same university. The Third Position has been secured by Ms. Stuti Charan who holds a B.Sc. from Jodhpur University. The results this time also show two of the three top ranks being secured by female candidates which is a very encouraging sign, as India has been talking of woman empowerment very seriously and a lot has been attempted too.
Among the top 25, six made it to the merit list in their first attempt, nine in the second and eight' in the third. Two candidates had taken the test for the fourth and sixth attempts.
As many as four were already selected for services other than IAS on the basis of exams held in previous years. Ms. Haritha was allotted Indian Revenue Service (Central Excise and Customs) in the 2011 exam.
This year's result also showcases the pan-India distribution of successful candidates. Among the top 25, there are candidates claiming domicile from as many as 12 States and Union Territories—Andhra Pradesh, Bihar, Chandigarh, Delhi, Haryana, Jammu & Kashmir, Karnataka, Kerala, Maharashtra, Rajasthan, Tamil Nadu and Uttar Pradesh.
Most of the toppers — 1 2 of 25—had appeared in the exam from Delhi centres followed by four from Thiruvanantha-puram, two each from Chennai and Hyderabad and one each from Jammu, Mumbai, Jaipur, Chandigarh and Allahabad.
The family background of those who did well shows diverse representation from all walks of life with their parents being farmers, teachers, businesspersons, government employees, doctors, advocates and professors.
When Ms. Haritha V. Kumar first took the Civil Services Examination, she fell short of 18 marks in clearing the Mains. But that did not dishearten her. Rather it gave her the confidence that she can crack the exam—and realise a childhood dream-—if she gave it a small push. Four years and an equal number of attempts later, ask her about how her interview went and she brightens up. "They asked me the four issues that plague India. I told them corruption, poverty, (lack of) women's security and unemploymentparticularly of the educated,"
Ms. Haritha told the media-persons at the National Institute of Customs, Excise and Narcotics in Faridabad where she is currently training as an IRS officer.
"They then asked me to suggest a single solution to tackle the four issues," she said. Her reply was "transparency with the use of ICT (Information Communication
Technolog}')". That, she believes, was among her best answers. Born and brought up in Thiruvananthapuram, she completed her schooling from a Malayalam-medium school and then obtained an Engineering degree in Electronics and Communication from the Government Engineering College. Early on in her life, she had decided to become an IAS officer though. After graduating from college in 2007, she started preparing for IAS and opted for Economics and Malayalam as her subjects. "I believe Economics is the underlying problem to all issues India is facing. So I wanted to have a deep knowledge of the subject," she said. In her first attempt in 2009, she fell short of 18 marks from clearing the Mains. "I thought when I could come this far with such shabby preparation, I could surely do better with a little more study," said Ms. Haritha, who is fond of reading books, particularly Kahlil Gibran, and usually watches Malayalam movies. In 2010, she cleared IRS but her heart was in IAS. "I felt IRS would not give me the opportunity to serve the people the way IAS would do. I tried again. Moreover, IRS gives us extraordinary leave for a year to prepare for the exam. I availed that facility and cleared it this time." Ms. Haritha considers the friends she made at IRS one of her biggest supporters and a factor for her selection. Before she joined IRS, her background prevented her from possessing a command over English.
Dr. Sriram Venkittaraman and Ms. Stuti Charan have bagged second and third positions, respectively in the examination. Dr. Sriram, who has earned Bachelor of Medicine and Bachelor of Surgery (M.B.B.S.) from Kerala University, has achieved the distinction in his second attempt. Ms. Charan has done Bachelor of Science from Jodhpur University and Post Graduate Diploma in Personnel and Marketing Management from the Indian Institute of Planning and Management
(IIPM), Delhi. It was her third attempt. An ecstatic Dr V. Sriram, who got the second position, said he was 'overwhelmed'. "I am on cloud nine," Dr. Sriram, who is doing his first year Post Graduation in General Medicine at the SCB Medical College at Cuttack told the mediapersons when contacted. He said that he had appeared for the UPSC Examination last year, but did not clear it. This time, he had done well both in the written examination and interview Dr. Sriram, who hails from Kochi, did his schooling at the Bhavan's, Girinagar, passing out in 2004 and graduation in die Trivandrum Medical College in 2010. Asked about the reaction of his parents, he said they were surprised. "Nobody expected a second rank," he said. Fourth ranked Dr. Alby John Varghese, hailing from Muvattupuzha, said that he was very happy with the result. Dr. Alby, who did his M.B.B.S. from Jubilee Mission Medical College, said that IAS was his first option. "I was interested in Civil Services as I wanted to work for the people in lower strata of society," he said. Ms. Shena Aggarwal, an M.B.B.S. from the premier All India Institute of Medical Sciences (AIIMS), had bagged the top slot in the Civil Services Examination 2011, while Chennai-based law graduate Ms. S. Divyadharshini topped the list in the 2010 exam.
Jodhpur's Ms. Stuti Charan has secured third position in country's most coveted exam. This was her third attempt for this exam. Ms. Charan's father is appointed with the Rajasthan State Warehouse as Deputy Director and mother is working as a lecturer with a private school. Despite being an MBA, Ms. Charan chose Agriculture and Botany subjects. During the entire tenure of preparation for the exam, she did not take any coaching classes and did everything on her own. Ms. Charan told the mediapersons, "I feel that Agriculture needs a big boost in our country, considering the fact that more than 50% of the population depends on this sector. Sadly, its contribution to the economy stands at mere 3%. Hence, I
seriously wish to work in this "direction". Apart from being an avid reader, Ms. Charan is also into writing poetry. She gives all the credit of success to her parents and sister for their constant support and encouragement.
The son of a police constable, the daughter of an IAS officer, a practising Chartered Accountant and the son of a semi-literate farmer from a small village all stand on the same podium despite their varied economic, educational and social backgrounds. Such is the interesting combination of candidates from Andhra Pradesh which tasted success in die Civil Services Examination 2012-13. State topper and ranked 16, K. Shashanka is a practising Chartered Accountant who derived inspiration from his uncle, retired as a Mandal Parishad Development Officer (MPDO). "Watching him closely, I understood the change a government officer can bring," he says. Mr. Shashanka left his cushy job at Ernst & Young and chose the Civil Services with the aim of contributing to society. Ms. G. Srijana, who was ranked  44th, is the daughter of senior IAS officer Mr. G. Balaramaiah. A Ph.D in 'Human Rights and Refugees', getting into the Civil Services was a childhood dream for Ms. Srijana given the atmosphere at home. She worked with Dr. Reddy's Foundation on juvenile homes earlier and their education before joining Group-I services in 2012. "I dedicate this to my father," Ms. Srijana said. J. Meghanatha Reddy, who secured the 55th rank, hails from an agriculture family from Proddutur and dreamt of being a Civil Servant since childhood as his father wanted him to be one. He preferred to do his B.A. despite bagging a seat at BITS, Pilani, Goa campus. "My friends thought I was crazy; but I wras focussed," says Meghanatha who is presently undergoing training in the Indian Railways Personnel Service in Mumbai. Meghanatha did his B.A. from Nizam College and M.A. (Economics) from Hyderabad Central University. The 101 ranker, Dr. Narasimhugari Tej Lohith Reddy might end up being the boss of his father, a police head constable at Kamalapuram police station. Dr. Lohith, w7ho is an M.B.B.S. from Osmania Medical College, is assured of an IPS. However, he also stands a chance to get the IAS. Dr. Lohith cracked the exam inhis first attempt and he decided to take a shot only in his final-year M.B.B.S. Hailing from Sunkesula village in Kadapa district, he secured the 6th rank in the EAMCET medical stream. "The Chois is a great platform to serve people and as a doctor my services will be limited to a few people," he says.
Saagar Srivastava of Patna, Bihar has made it to All India merit list in Civil Services Exams 2012-13 (rank 291) and is likely to get to the IPS. What is remarkable about his success is that he has made it to the prestigious merit list while working full time in one of the world's top banking institution, the Royal Bank of London (RBS) at London Office in its Investment Banking Division. Saagar has been working there as an Analyst, and then as an Associate after promotion, under a hugely demanding professional rigor, which is the hallmark of these world- level institutions. Thus, was left with very little time for preparing for the exams, and he did so mosdy on weekends, though at many occasions he had to work for the Bank even on weekends. He flew from London to Patna to appear for his Prelims with just 4-5 days in hand, which he cleared. Then he took the tough Written exam under these demanding conditions of his professional life at the RBS, again coming to Patna with about 10-12 days in hand. Yet, he succeeded at that stage and then faced the interview and finally cleared appearing in the merit list. Saagar has a remarkable academic career along with equally passionate contribution in other fields. At DPS Bokaro, he was elected as the President (Head Boy) of the School. He joined the Fergusson College, Pune for his Economics Honours, where he was one of the toppers and in all three years achieved distinction in all papers. At Fergusson, while excelling in his studies, he got awards for his drama, organised the first-ever cultural fest Oorja, led his team to IIT-Bombay's nationally renowned Mood Indigo Fest and got awards, was adjudged the best Speaker in the UN Assembly Moot Competition and so forth. Thereafter, with an outstanding score in GRE (800/800 in Maths; 6/6 in analytical Section), he was selected by the London School of Economics to pursue Master's in Economics at the LSE with an award of full scholarship. He cleared it with First Class Merit and thereafter wTas selected by the prestigious Royal Bank of England at its key London Office, from where he took his Civil Services Exam in 2012.
Engineers and doctors in the Tricity (Chandigarh-Panchkula-Mohali) did well in Civil Services Exam. The highest rank in Tricity has been secured by Dr. Ankita Chakravarty (AIR 17), who did her M.B.B.S. from AIIMS. The Sacred Heart Senior Secondary School, Sector 26 alumnus cleared CSE in her first attempt. Harpreet Singh of Sector 22 of Chandigarh secured rank 22. Among the top 100, ranks 59 and 80 also have been bagged by candidates from the Tricity. Parth Gupta, son of a Haryana IAS officer bagged rank 59 and Ms. Kriti Garg, sister of a sub-divisional magistrate in Chandigarh, bagged rank 80. "My focus will be on gender empowerment and I will work in that direction while carrying out my responsibilities as a civil servant," said Dr. Ankita, who has been a consistent topper. "When I entered the private sector, I observed a drastic change in the quality of work in what I was doing and what my father was doing," said Parth, son of S.S. Prasad, a Haryana cadre IAS officer. "It was my first attempt and I am glad I could crack the Mains without toiling for hours like others. Rank 80 was lucky for me. My sister also had the same rank when she cracked the Civil Services," said Ms. Kriti Garg, sister of SDM Tanvi Garg.
Rishi Garg, 27, secured all India 49th rank in the Civil Services Examination. Unable to contain the joy, Lucknow-based Rishi, who was in Faridabad, said: "It's a moment worth living. I feel my hard work has paid. I am fortunate to be among the toppers." This was Rishi's second attempt for the UPSC Civil Services. A graduate from IIT-Kanpur, Rishi worked as a patent engineer in an intellectual property rights firm for two years. In 2010, he quit the job to,prepare exclusively for the Civil Services. In 2011, his first attempt in UPSC, Rishi secured AIR-398 and joined Indian Revenue Services. He is presently undergoing training for Customs and Central Excise Department. Son of a retired executive engineer, Mr. Ashok Kumar Garg, Rishi said, "I am fortunate to have support of my parents." To accomplish his goal, Rishi spent 10 hours a day studying. Securing AIR-28, Yogendra Singh is native of Unnao. He did his graduation from Lucknow University. With an AIR-273, Ms. Sawni Dikshit was overjoyed. This was Sawni's third attempt in Civil Services. Already working as Assistant Director, Regional Evaluation Office, Planning Commission, Ms. Sawni believes in hard work and dedication. She thanked her husband Dr. V.P Singh, a cardiologist, and her parents for her success. Ms. Sawni's father, Mr. O.P. Dikshit, is currently serving as DG Vigilance, Lucknow, while her mother, Ms. Manju Dikshit, is an English teacher. Other city toppers include Gaurav Kumar Singh (AIR-190) and Anurag Tripathi (AIR-350).
Delivering their best performance ever, eight Kashmiris among 11 candidates from Jammu and Kashmir cracked the prestigious Indian Civil Services Examination. Ms. Sehrish, Showkat and Khurshid who have made it in die top 100 would get the IAS cadre. Adnan Nayeem Asmi with 189th rank, Naveed Trumboo with 386th rank, Abid Sadiq with 501st rank, Amanullah Tak with 571st rank and Ruveda Salam Bajjad with 820th rank are the other candidates from the Valley while Anchita Pandoh with 446th, Arun Kumar with 716th and Iftakhar Ahmed Chowdhry with 902nd rank cracked the UPSC Exam from Jammu.
Talking to mediapersons over phone from Karnataka, Ms. Sehrish, the topper fromJ&K last year became the first female Indian Police Services officer from Kashmir, said: "I was inspired to work for my society and the great potential of the IAS that makes a positive indelible contribution for its growth and development of the entire society," Ms. Sehrish, an M.B.B.S., had taken Sociology and Urdu Literature as subjects for the UPSC Exam. Ms. Sehrish is the daughter of opposition Peoples Democratic Party (PDP) MLC Syed Asghar Ali. Ms. Sehrish's father Asghar said that he felt proud with his daughter's achievement. Asghar said he raised Ms. Sehrish up teaching her about religion besides the worldly affairs. "I told her to chase her dream but always be a tool to bring betterment in your village, State and country," he said. Wishing to remain close to his own people in Jammu and Kashmir, Showkat Ahmad Parray, who hails from Kreeri tehsil in Baramulla qualified the coveted exam for the second time. He had qualified the UPSC Exam in 2009-10 and was posted as Assistant Postal Officer. "I was not exposed to the system of examination for IAS when I qualified it first time and I landed in a department not of my choice. Now, I have qualified die exam with 41st rank and would like to work in social sector," Showkat said and wished to be placed in Jammu and Kashmir under the LS cadre.
It was a dream come true for Ms. Komal Pravinbhai Ganatra when she learnt that she had secured 591th rank in the Civil Services Exam 2012-13. Ms. Komal, who is a primary school teacher in a remote village of Bhavnagar district, Gujarat, expects to join Indian Revenue Service (IRS). She is among the 11 candidates from Gujarat who have cleared the CSE this time. Daughter of a retired primary school teacher at Savarkundla in Amreli district, Ms. Komal is now determined to fight a legal battle with her NRI husband, Shailesh Popat, who is setded in New Zealand. Barely 15 days after her marriage five years ago, she was deserted by her husband, because her parents could not meet the dowry demand.