Lalitha Rajendran!
Rank 12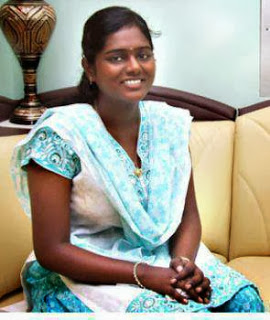 Twenty years ago, a little girl in Srinagar,
watched awestruck while two young
ladies were being ushered in with great
respect by high-ranking officers -men
who were senior to her father, an
engineer with the Border Roads Organisation. Her father pointed out the
women as IAS officers. That day, the little
girl silently resolved to become an IAS
officer. She soon followed her father to
Assam, Nagaland and Pune. She changed
schools, but the dream stayed.
One fine morning in Tiruchi, it all fell into
place when Lalitha Rajendran found her
name at Number 12 on the civil service
examination result list. And her joy knew
no bounds when she realised she was
number one in the State.
"It was a pleasant surprise," is all Lalitha
Rajendran can say to describe the
moment she had long dreamt of. After a
succession of schools across India, Lalitha
joined R.S.K Higher Secondary School,
when her family shifted to Tiruchi. After graduating as a civil engineer from
Periyar Maniyemmai College, Thanjavur,
she started out as junior executive
engineer with the Airports Authority of
India (AAI), while simultaneously
preparing for the civil service exams.
Lalitha cites Vachani's transformation of
Tiruvalarchipatti by introducing sewage
treatment in the leather tanneries as the
very act that made her realize she too
could make a difference. After two
unsuccessful attempts and a third attempt when she made it to the list at
No. 573, Lalitha went into depression.
Not the one to give up, she decided to
approach the exams with renewed
determination and confidence. Quitting
her lucrative job at the AAI was not the easiest of decisions, but her confidence
and her parent's support saw her
through. "If your goal is clear, failures
will not deter you. From childhood, I had
a fixed goal- to become an IAS officer.
Though I liked my job with the AAI, I was not completely happy, because I felt
out of place. This (IAS) was my destiny,
this was my dream," she justifies.As an
IAS officer, Lalitha wants to ensure that
government schemes are implemented
and people are made aware of the schemes available to them.
"My roots are in rural India. So, I would
definitely do something to better the lot
of farmers," adds the young woman,
born in Kurichi near Karur. Full of hope
and anticipation for the future, she
admits she has much to learn. "I have a goal – to reach the people. I need to
learn the ways."