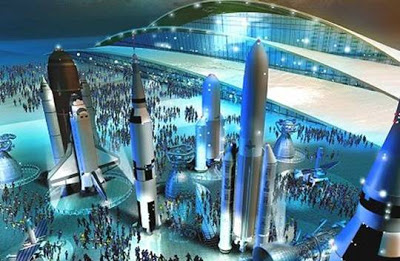 Artificial Satellites:
A man-made object placed in the orbit about a planet.
Astrionics:
Electronics applied especially to astronautics.
Astronaut:
The person who actually flies through space and also those concerned with flying through space.
Read Also: Neil Armstrong
Booster:
A propulsion unit used in the initial stage of rocket flight.
Boost-Glide Vehicle:
A rocket- boosted winged-vehicle under aerodynamic control capable of leaving the atmosphere, entering space and re-entering the atmosphere by gliding.
Cislunar:
Cosmonaut:
The Russian name of the person who actually flies through space and also those concerned with such flying.
Early-warning satellite:
A reconnaissance satellite for detecting the enemy ballistic missile firing well in advance ti give warning.
Environment space chamber:
A chamber used for training the specimen.
Don't Miss: Yuri Gagarin – The First Man in Space
Hard Landing:
The destructive impact of a space vehicle on a predetermined celestial target, the vehicle being destroyed upon impact.
Orbit:
Path of a body relative to its primary.
Payload:
Useful cargo.
Propellent:
A liquid or solid substance burned in a rocket to develop thrust.
Retro-rocket:
A rocket fitted on or in a vehicle used to retard forward motion.
Satellite:
A body moving around a celestial body.
Soft landing:
The presence of smooth landing of a space vehicle on a planet or satellite without any damage.
Space-platform:
A large orbiting satellite serving as a base in space well-equipped for the purpose.
Read Also: The European Space Agency (ESA)
Stationary orbit:
A circular orbit in which the satellite moves from west to east at such a speed as to remain fixed above a particular point on the
Telemetering:
A process of taking the measurement of speed, temperature, pressure and radiation within a spacecraft during flight and conveying them by radio to a ground station.
Tracking-station:
A station equipped with radio and radar etc. to track a body moving through space.
Trajectory:
The path described by a space vehicle.
Weightlessness:
The absence of any apparent gravitational pull on an object. Absolute weightlessness is obtained only by an object falling freely in the vacuum.
Must Read: