'Time spent on the study table matters the most'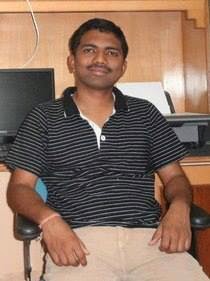 Anupam Saha (26) from backward Kalahandi's Kesinga town has cracked Civil Service Examination (IAS) with 35th rank. Results of the exam were declared on Friday.
An electrical engineer by qualification, Anupam cleared the exam in his third attempt. Given his top rank among successful Odia candidates and his first preference, he is likely to secure Odisha cadre.
Q-How did you prepare?
A-It is a three-stage examination, i.e., prelims, mains and interview and this was my third attempt. For the prelims, I studied extensively from the syllabus and emphasized on current affairs. Clarity of concept is the key to success in the preliminary test. Intensive study, answer writing practice with emphasis on presentation is of utmost importance in the mains. At the interview, what I feel is the board tries to assess the aptitude of the candidate for a career in civil services by asking questions from diverse fields.
Q-How was your interview?A-My interview lasted for 25 to 30 minutes. I was interviewed by Alka Sirohi's board. The questions asked were on contempt of court, knowledge economy of India and its scope and challenges, questions on challenges in higher education in India, difference of demographic problems between developed and developing world, Malthusian theory and its relevance in current era, National Sample Survey Organization and its scope and significance, whether the state government was justified in releasing the alleged Maoists from jail, why I left my previous job and to elaborate "not taking a decision itself is a very good decision."
Q-Can someone get into IAS without attending a coaching?
A-Coaching makes the preparation time-bound and keeps the competition spirit high. But it is the time one spends on his/her own study table that matters in the examination hall. I consistently studied for seven to eight hours everyday. I did take coaching. But many cleared the examination without going for coaching. So joining a coaching or not is a personal call.
Q- What are the problems for preparing for the civil services in Odisha?
A-I did my entire preparation in Delhi. I am not exactly aware about the problems faced by candidates who are preparing in Odisha. But I feel we lack an atmosphere for preparation here.
Q-What will be your advice for aspirants?
A-Plan well and work hard. Have confidence in yourself, success will be yours.
Q-What is the importance of college teaching in civil services?
A-I did my graduation in electrical engineering, but I opted for geography and public administration as optionals. I had an inherent interest in geography right from my school days and I thought public administration will be useful for me in my career. Apart from that, these subjects are high scoring and there is no dearth of study material and guidance. Good academic background is definitely helpful. But there is a big gulf between the academic curriculum followed by universities and the demand of the UPSC examination.
Q-What is your education background?
A-I did my initial schooling from Saraswati Sishu Mandir, Kesinga. I passed my matriculation from Kesinga Vidyapitha. I studied in vernacular medium till Class X. Then I studied +2 science from BJB college Bhubaneswar. After that, I joined the prestigious National Institute of Technology, Rourkela.
Q-What was the motivation to prepare for civil services?
A-It is the top most career in India in the government sector. Job satisfaction is of the highest order. It gives the opportunity to be part of the nation building process.
Q-What can be done by the government to improve state's performance in the exam?
A-The government should start thinking of promoting candidates preparing for the civil services as done by various other state governments. The state government can infuse enthusiasm into the civil services aspirants by providing financial assistance to the needy and deserving people. Such steps have paid rich dividends in some states and there has been a substantial improvement in the number of people selected from these states in the last 3 to 5 years.
* For More Updates  please Stay Connected with our
  facebook page
  .
    You may connect Directly With me for any query   Sandeep