Vision for $5 trillion economy driven by Investment
Transforming rural lives
New Jal Shakti Mantralaya to ensure Har Ghar Jal
Enhancing ease of direct and indirect taxation
Strengthening connectivity Infrastructure
Gandhipedia to sensitize society
India's soft power
Harnessing India's space abilities
Pradhan Mantri Karam Yogi Maandhan: Pension benefits to retail traders and small shopkeepers
Enhanced interest deduction for affordable housing loan Tax benefits for corporate taxpayers
Vision to become $5 trillion economy driven by 'virtuous cycle' of investment India becomes sixth largest economy
Pradhan Mantri Matsya Sampada Yojana (PMMSY) Establish robust fisheries management framework
Scheme of faceless electronic tax assessment Aadhaar and PAN to be interchangeable
Reform, Perform, Transform agenda: GST, IBC, RERA etc. Changing common man's life: MUDRA, UJJWALA, SAUBHAGYA etc.
Push to Investment: Infrastructure Development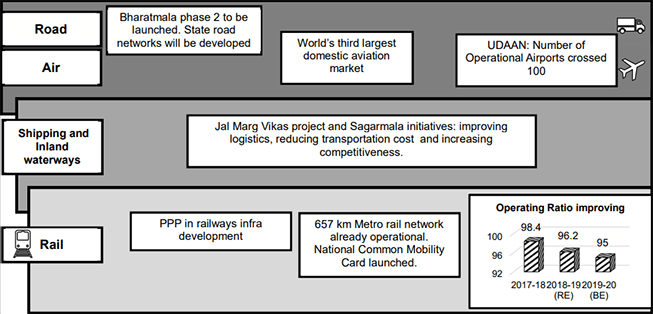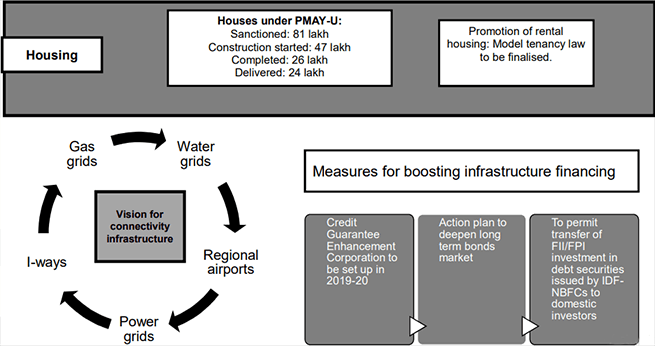 Industrial Development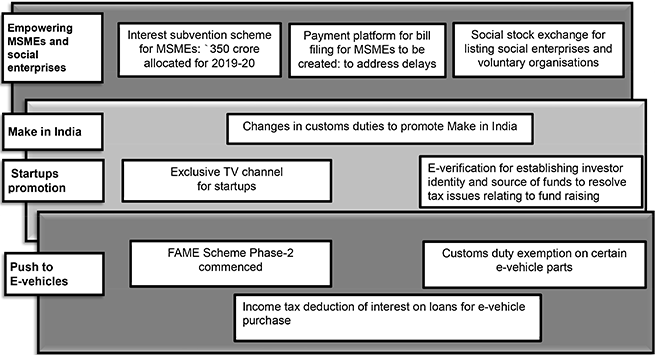 Growth and Macro-Economic Stability: Vision for $3 Trillion Economy


Fiscal Consolidation and Inflation Management


Budget at a Glance: Receipts and Expenditure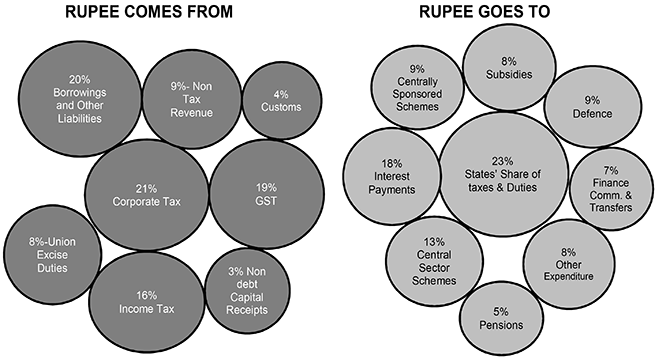 Tax Proposal
The threshold for applicability of lower corporate tax rate of 25% increased from ₹250 crore to ₹400 crore.
Enhanced interest deduction up to ₹3.5 lakh for purchase of an affordable house.
Deposit-taking and systemically important non-deposit taking NBFCs can now pay tax in the year they receive interest for certain bad or doubtful debts.
TDS of 2% on cash withdrawal exceeding ₹1 crore in a year from a bank account to promote less cash economy.
Effective tax rate for individuals having taxable income above ₹2 crore has been increased.
No charges or MDR on specified digital mode of payments.
These modes are to be compulsorily provided by large businesses.
Sabka Vishwas Legacy Dispute Resolution Scheme proposed for quick closure of service tax and excise related litigations.
Surcharges on individuals having taxable income of Rs 2 crore to Rs 5 crore and Rs 5 crore and more have been raised by around 3 per cent and 7 per cent, respectively.
FACELESS E-ASSESSMENT
A scheme of faceless electronic assessment involving no human interface to be launched this year.
DIRECT TAX REFORMS PAYING OFF
Increase in tax collection by 78% from ₹6.4 lakh crore in 2013-14 to ₹11.4 lakh crore in 2018-19
ENHANCING EASE OF TAX PAYERS
Aadhaar and PAN to be made interchangeable
Reform, Perform and Transform


Rural India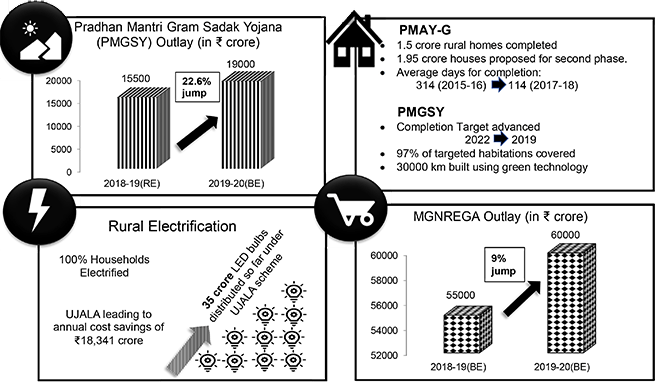 Farmer Welfare and Water Security
Boost to agro-rural industries through cluster based development under SFURTI scheme with focus on bamboo, honey and khadi clusters
100 new clusters to be set up to enable 50000 artisans during 2019-20
100 Business Incubators to be set up to enable 75000 entrepreneurs under ASPIRE
Pradhan Mantri Matsya Sampada Yojana launched
The scheme will address critical gaps in strengthening value chain, including infrastructure, modernisation, production, productivity and quality control
Constitution of Jal Shakti Mantrayala
1592 critical and overexploited blocks identified under Jal Shakti Abhiyan
To ensure Har Ghar Jal to all rural households by 2024 under Jal Jeevan Mission
Focus on Integrated demand and supply side management at local level, creation of local infrastructure for rainwater harvesting, groundwater recharge and household waste water management
Women's Development and Women Led Development


Labour and Youth Welfare
Pradhan Mantri Laghu Vyapaari Mann-Dhan Yojana (PMLVMY)
Pension benefits to around 3 crore retail traders and small shopkeepers with annual turnover less than ₹1.5 crore.
Pradhan Mantri Shram Yogi Maan Dhan (PM-SYM)
About 30 lakh workers have joined the scheme Rationalising of labour laws into 4 labour codes proposed.
National Research Foundation to be established to fund, coordinate and promote R&D
₹400 crore provided for 'World Class Institutions' for FY 2019-20
Study in India: to bring foreign students to higher educational institutions
National Sports Education Board to be setup under Khelo India.
To prepare youth for new age skills: Artificial Intelligence, IoT, Big Data, 3D Printing, Virtual Reality etc
Vision for Next Decade
Physical and social infrastructure
Digital India
Pollution free India
Make in India
Water management and clean rivers
Blue economy
Space programmes
Self-sufficiency and export of food grains
Healthy society
Team India with Jan Bhagidari
To read the highlights of the interim budget tabled by Piyush Goyal in February 2019 in Parliament Click Here