ANUPAM SAHA
IAS Topper Rank: 35
Exam: Civil Services Examination
IAS Topper Year: 2011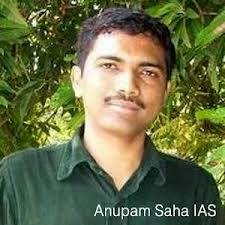 Marks Obtained
| | | | |
| --- | --- | --- | --- |
| | | Total Marks | Marks Obtained |
| Essay | | 200 | 118 |
| General Studies | | 600 | 248 (111 + 137) |
| Geography | | 600 | 376 (201 + 175) |
| Public Administration | | 600 | 303 (144 + 159) |
| Total (Written) | | 2000 | 1045 |
| Interview | | 300 | 180 |
| Total | | 2300 | 122553.26 % |
Optional Subjects
Geography, Public Administration
Success Plan
I had once been to my district headquarter and was influenced by the personality of District Collector during my college days. That was a deciding moment.
While I was in job (TCS) after my graduation I decided to prepare for the exam seriously and I quit the job.
Success story of Bijay ketan Upadhyaya (AIR 5, CSE 2008) and Anay Dwivedi (AIR 5, CSE 2009) influenced me a lot.
It was a trial and error case for me. I learnt from my mistakes. But sometimes I used to consult my friends who are already selected like Smarak Swain (IRS), Harish (IRS).
Number of attempts
This was my 3rd attempt. In my 1st attempt I couldn't clear even Preliminary Examination. I misjudged the demand of examination. I was bookish and never used to study newspaper properly.
From then onwards I started reading newspaper (The Hindu) very thoroughly. I used to make notes from it. That was really helpful. In my 2nd attempt I wrote mains but it was a half hearted one. So I missed interview call for few marks.
In this attempt things started falling in place in due course of time and I succeeded.
'Time Management'
Yes, time management is very vital. For mains number of questions have increased for every optional. So one should divide the time according to the marks allotted.
Secret of success
Single minded devotion with intelligent hard work.
Optional Subjects
'Interest' in the optional should be given highest priority. Next is availability of material and guidance. One need not necessarily go for so called popular optional subjects.
Optional Subject 1- Geography
Optional Subject 2- Public Administration
I have inherent interest in Geography since my school days. It helps a lot in General Studies and Essay too.
Public Administration has Short and concise syllabus. It's contemporary in nature and helpful for General Studies and Essay. It'll be useful in my career too.
I kept the same optional subjects in all attempts.
Prelims
Repeated revision for paper I and practice for paper II are the keys. Newspaper plays a vital role too. There was no water tight division of time for both the papers. I used to do what I feel is required to be done.
Extensive use of internet is useful for Preliminary Examination. UPSC asks questions from Government reports. So I used to download them from internet and read. One should browse MOEF's website for ecology, environment preparation.
Paper II (Aptitude Test)
Practice is the key to Paper II in Prelims. I used to solve few passages daily and tried to improve in the accuracy level there. I solved some practice sets for quantitative aptitude.
'Negative Marking'
For GS conceptual clarity helps to tackle negative marking.. But UPSC now-a-days is asking more and more statement based questions with close answers. So, it is difficult to avoid negative marking.
One has to take chance in 75:25, 50:50 cases judiciously. For CSAT practice will reduce the negative marking
Mains
The shift in strategy was only from extensive preparation in Preliminary Examination to intensive for Main Examination.
Essay
I didn't prepare anything separately for essay. I wrote one essay before mains and got it evaluated from teachers and my friends. I got very good feedback and tried to improve on them.
I chose the Essay topic "Creation of smaller states and the consequent administrative, economic and developmental implications" because I was most confident on it and was having sufficient points to write.
My Public Administration knowledge came handy. At that time Telengana and GJM movement was in news and I had read several articles on them. That helped a lot.
Interview
I prepared my Bio-data very well particularly home state and district.
I faced Alka Sirohi madam's board. It lasted for around 25 minutes. It went well. The board was cooperative.
Interview Questions
Questions asked were mostly generic in nature.
Advice
Always do the SWOT (Strength-weakness-Opportunity-Threat) analysis.
Have confidence on your abilities. Be on track and keep doing till you reach your goal.