Competition Success Review Not Only Helps The Candidate For Civil Services Exam, But Also Caters To His/Her Need For Other Competitive Exams. — Deepak Singla, IAS Topper 2011-12 (55th Position)
BIODATA
Educational Qualification :B.Com, CA
School : S.D. Public School, Narwana
College : K.M. Government College, Narwana
Experience : Worked with Nestle India Ltd. from June 2009 to September 2010 as Assistant Manager (Finance)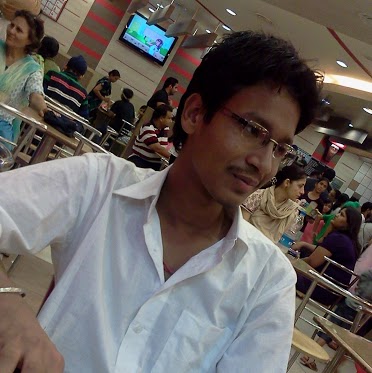 Mr. Deepak, Singla, a Chartered Accountant by training, hails from Jind distnct of Haryana. He has secured the 55th Position in the overall list of successful candidates in the Civil Services Examination 2011-12. For his remarkable success, he gives credit to his self-belief, perseverance and a good strategy for preparation. At the same time, he feels indebted to his parents, teachers and friends for the support extended to him while he was prepanng for the exam. According to him, anybody who prepares for the CSE (Main) around 10 hours a day for 12-15 months before the Mains can crack it successfully.
Mr. Singla finds Competition Success Review extremely helpful, because of its coverage of a huge amount of information in a concise and easily readable format. To his mind, CSR provides very relevant information to the aspirants from the examination point of view. To his mind, CSR helps the students preparing for not only the Civil Services Examination, but also caters to the needs for other competitive exams and helps them in deciding their respective careers.
CSR: Congratulations!
Mr. Deepak Singla for your 55th Position in the Civil Services Examination 2011-12. What is the secret of your success in this examination ?
Deepak Singla :Self-belief,perseverance and very good strategy apart from support from the parents, teachers and friends are the secret of my success.
Q. How much time do you think one requires for serious preparations for this examination ?
A. I think that 12-15 months with around 10 hours a day before the Mains is enough time a candidate requires to clear this exam.
Q.Which newspapers and journals have you been reading for the General studies and other papers ?
A.Apart from Competition Success Review, General Knowledge Today and CSR Year Book, I read The Hindu and Yojana.
Q. Do you remember any remarkable incident of your life that motivated or prompted you to go for a career in the Civil Services ?
A. During my 10th Class, due to my interest in general knowledge, one day my mother asked me to go for the Civil Services. That day, for the first rime, I heard about IAS and this became a source of inspiration for me to go for a career in die Civil Services. I explored a lot about IAS and was keen to join this service.
Q. Competition Success Review, the largest selling youth magazine in English, has been extremely helpful because…
A. it covers a huge amount of information in short and easily readable format which saves a lot of time for the candidates. Also, it provides very relevant information from the exam point of view.
Q. How did your parents, family and friends contribute to your success ?
A. I belong to a middle-class family and it was my family which supported me in my toughest decision of life, of quitting the job of Rs. 12 lakh per annum for the preparation of the Civil Services. They always had faith in my capability, and I owe my success to them. My friend and senior, Ms. Durga Nagpal (20th Position, 2009 batch) provided me with very reliable guidance and was the real mentor to me in this journey. My friends Jatin, Privamvada and Tabinda were great asset to me during the CSE preparation.
Q. Had you not been selected in the Civil Services Examination, what would have been your reaction ? Which other service/career would you have gone in/opted for ?
A. Although I was quite confident of my selection yet had I not been selected, I would have been very disappointed as I had put in a lot of effort for this exam. I was simultaneously offered Finance & Accounts Officer's job in the ONGC Videsh Ltd. for which my joining was due, and hence, I had my alternative prepared along with it.
Q. How do you visualise your success ?
A. Success or failure is a part of life. But surely my selection for Civil Services is the biggest achievement for me so far, and it has drastically changed my life. So now, I am feeling like 'the king of the world' and want to continue with further achievements, both for me and my country.
Q. What are your strong points which enabled you to achieve spectacular success in the Civil Services Examination ?
A. Self-belief and self-confidence; time-tested strategy and proper execution; positive outlook and never-say-die spirit; and complete honesty and dedication to my work.
Q. What were your Optionals at the Civil Services Examination ?
A. Commerce & Accountancy and Public Administration.
Q. How many attempts had you made earlier before you got selected ?A. This was my first attempt.
Q. What was your criterion for the selection of the Optional subjects ?
A. I chose Commerce as I have done CA. I choose Public Administration because of its being an overlapping area with Commerce and General Studies, easy availability of material and guidance and its practical usage for my career.
Q. How did you prepare for your compulsory papers ?
A. For General Studies, I relied mainly on The Hindu and Vajiram notes apart from CSR, both for the Prelims and the Mains. For Essay paper, I did not prepare much and wrote two essays myself before the Mains. For Language papers, I just prepared from the previous years' question papers.
Q. What is your impression about the Interview Board ?
A. My interview was scheduled in the morning. Mr. P.K. Mishra was the Chairman of the Board. The Board was extremely cordial and was one with a positive approach towards the candidates. It lasted for 35-40 minutes and I was very happy with my performance.
Q. Competition Success Review is the largest read youth magazine in English. How do you visualise the role of this magazine in moulding the careers of the youth ?
A. CAR not only helps the candidate for Civil Services Exam, but also caters to his/her need for other competitive exams. It provides a lot of useful information which helps the youth in deciding the career path in their life.
Q. How did Competition Success Review help you in your preparation for the interview?
A. CSR provided the vast information needed for the Personality Test in a very crisp and concise manner which saved a lot of time for me for my preparation. Also, information by CAR proved to be very reliable and useful for General Studies. CAR articles on personality development and for essay preparation is also quite useful for Civil Services aspirants.
Q. How do you look upon the publication of CSR magazine in Hindi ? Do you think that the mindset and basic approach of English medium students are fundamentally different from those of the Hindi medium students ?
A. I think that this is a commendable work by CAR team, as there is a dearth of sufficient material for the Hindi medium candidates. It provides a level-playing field for the Hindi medium and rural area candidates. I do not think that there is any fundamental difference between Hindi medium and English medium students.
Q. What is your opinion about Competition Success Review ?
A. CAR is a well-written magazine, considering various aspects of Civil Services Exam. It needs to adopt a proactive approach in its material as the pattern of UPSC is changing rapidly. It should include more concept-based and opinion-based articles to make it more useful for Civil Services aspirants.
Q. Since when have you been reading Competition Success Review ?
A. I have been reading CAR since my 10th Class.
Q. Since when Competition Success Review has been coming to your home ?
A. CAR has been coming to my home since 2001.
Q. Did your father and/or mother also read Competition Success Review when they were of your age ? If so, who read and when ?
A. No, my parents were not lucky enough to read CAR I wish they could have studied CAR during their studies.
Q. What is your opinion about General Knowledge Today ?
A. GKT is a very compact and concise magazine. It helps in revising a lot of areas in a very little time and is the most updated book I have read till date.
Q. What is your opinion about CSR Books ?
A. I have read CAR Year Book which I find extremely useful.
Q. What do you think is a better way of preparation between selective intensive study and wide extensive study ?
A. For the Prelims, one needs to do extensive study and for the Mains it is the combination of both which is essential.
Q. Is this pattern of the examination appropriate for selection ? Would you recommend any other improvement ?
A. I think that the current pattern of the examination is well-crafted. However, a level-playing field can be provided for all the candidates like the one has been provided in Prelims by introducing CSAT. It will eliminate bias with regard to Optional subjects.
Q. Do you feel that there should be no restriction on the number of attempts ?
A. I think, for a serious candidate two attempts are sufficient Maximum three attempts should be allowed for the candidates.
Q. We have been publishing essays every month under Current Issues and CSR Essay Contests and CSR Super Brain Youth Contest by adding eight more pages to encourage our readers not only to write better, but also to know what the top competitors could be writing. Besides, we offer CSR Gold Medal (22-carat), Delhi-Kathmandu-Delhi Air Ticket, CSRTrophies, Colour TVs, Tablet PCs, Tennis Racquets & Wrist Watches to the winners of the CSR Super Brain Youth Contest. Is this focus-oriented approach helpful for the IAS aspirants ?
A. Definitely, this helps a candidate to prepare for the Essay paper which is normally ignored by the candidates. It helps in opinion-making capabilities among IAS aspirants.
Q. To what extent, you think, model test papers can be useful for the aspirants of the Civil Services ?
A. Model test papers help in preventing mistakes in the Main Examination. They give you opportunity to assess your performance and help in finding weak areas which can be worked upon to secure more marks. I joined test series both for General Studies and Public Administration.
Q. How do you think Competition Success Review could be more useful to the candidates appearing in the Civil Services and various other competitive examinations ?
A. As I have mentioned earlier, CAR should be more proactive in its approach. It should also include more topics on environment, ecology and economics as these areas are now getting more space in the UPSC paper.
Q. Do you think that the UPSC needs to be more transparent in its examination and evaluation ?
A. I think UPSC has already started this process; however, it should also disclose Prelims answer keys and cut-off list for the selection purpose. Scaling in the Mains, if used, should also be disclosed.
Q. What is your advice to the future aspirants ?
A. Friends, self-belief is the key to success, not running after coaching centres and reading innumerable books. The idea is to read limited material many number of times rather than huge material at a single time. Do not get scared by the thought of the result. Just do your work and leave the rest on die Almighty. Best of Luck!