Relation between India and Southeast Asia: 
After Independence, India became a closed economy and discouraged imports and exports from other nations. In contrary, the countries of Southeast Asia such as Japan, Thailand, South Korea, Malaysia and so on adopted the policy of export led growth from 1950's onwards. Hence till 1991, India's relations with Southeast Asian countries are nothing more than proximity and neighbourhood.
Read Also: Association of Southeast Asian Nations (ASEAN)
INDIA'S LOOK EAST POLICY:
When liberalisation of the economy began in India in 1991, it started looking for foreign investments and paid attention towards the fast growing East Asian countries. This is called LOOK EAST POLICY constituted by P V NARASIMHA RAO. The success of the organisation ASEAN (ASSOCIATION OF SOUTHEAST ASIAN COUNTRIES) formed by SouthEast Asian countries further enhanced the interests of India in that region.
At the same time, those countries were also interested in consolidated relations with a big nation such as India to checkmate China, which was rising as a superpower. They also viewed India as the manufacturing centre and market hub of their products.
Thus, since 1991 till now, India has been maintaining strong trade relations with the SouthEast Asian countries and also playing a key role in their regional cooperation issues as well.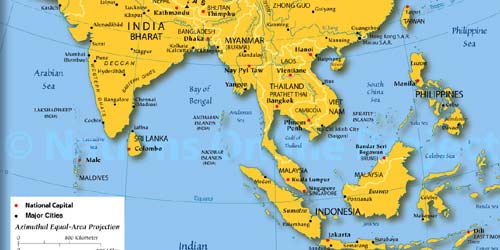 INDIA AND THAILAND:
India and Thailand share a maritime boundary in the Andaman Sea. The biggest cultural influence of India on THAI culture is Buddhism. Buddhism originated in India is now the major religion in Thailand. Most of the people in Thailand follow the religion.
In the year 1986, Prime minister of India, Rajiv Gandhi opened up relation with Thailand by signing the joint statement on cooperation in the field of Science & Technology and promotion of bilateral economic trade.
After 1991, the relations became even more consolidated. Diplomatic talks were regularly held and culture based Tourism was promoted mainly. Till 2013, the relations are mainly of economic importance.
In 2013, both the countries signed an extradition treaty which provides a legal framework for cooperating in fighting against terrorism, money laundering, smuggling and arresting and exchanging the criminals.
Besides, many agreements on resource development, educational opportunities and so on are made between India and Thailand.
INDIA AND SOUTH KOREA:
In 1950's and 1960's, India and South Korea looked at each other with suspicion as South Korea was an ally to USA and India supported USSR in the matter of Defence treaty of 1953. Later on, South Korea started globalising in 1980's and when India opened up in 1991, trade relations began between the two nations.
During 1990's South Korea invested 2.5 million dollars in Indian markets which value about 3.8 billion dollars according to present rates.
In 2009, both the countries signed a free trade agreement named CEPA (Comprehensive Economic Partnership Agreement) which envisaged collaboration in the services sector. Information technology, Engineering, legal and financial services from the main part of this agreement.
The talks are going on for the defence cooperation and Naval building between the two countries.
Must Read: India and South-East Asia in the Ancient World
INDIA AND JAPAN:
The bilateral relations between India and Japan started from early 1950's itself. After the Second World War, Japan was completely devastated. During its revival, India supplied Iron ore to Japan. In return, Japan started giving loans to India as ODA (Official development Assistance) from 1958.
The money got invested in Indian infrastructure and projects like DEDICATED FREIGHT CORRIDOR, DELHI METRO and so on. India is a great market hub for Japanese products. Till date, the bilateral trade between India and Japan amounts to 17 billion dollars.
In 2014, Prime minister of India, Narendra Modi visited Japan and made many key agreements including SPECIAL STRATEGIC GLOBAL PARTNERSHIP.
Besides, the relations between the two nations became strategically important as China is rising as a superpower from Asia. To balance it, both have to cooperate in many sectors exchanging resources and services.
CONCLUSION:
Other countries of SouthEast Asia like Malaysia, Indonesia, Philippines and so on share good relations with our country. The NRIs residing in the countries of SouthEast Asia also contribute to the foreign credits of India.
Don't Miss: 
South Asian Association for Regional Cooperation (SAARC)
RCEP Ultimatum : Cut Tariffs or Leave FTA talks