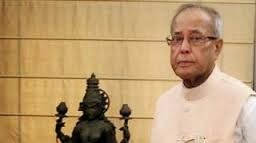 Pranab Mukherjee is the 13th and current
President of India
, in office since July 2012. In a political career spanning six decades, Mukherjee was a senior leader of the
Indian National Congress
and occupied several ministerial portfolios in the Government of India. Prior to his election as President, Mukherjee was Union Finance Minister from 2009 to 2012, and the Congress party's top troubleshooter.
Some Known Facts About Pranab Mukherjee
Pranab Mukherjee is among the few politicians who are quite versatile and can manage almost anything. He was the one who held three key ministries – Finance, Defence and External Affairs.
The one and only one finance minister who has presented budgets since pre-liberalization till post-liberalization era. Till the date, he has presented 7 budgets.
Before becoming a full-fledged politician, Pranab Mukherjee was a college teacher and began his political career in 1969.
Pranab Mukherjee maintains a diary and manages to write a page every day. His daughter Sharmistha
Mukherjee wants to publish it
Euro money Magazine in the year 1984 rated Pranab Mukherjee  as one of the best finance ministers in the world.
The Bengali politician loves fish curry and consumes it almost every day except Tuesdays. He is extremely fond of poshto which is cooked along with vegetables.
A religious person, Mukherjee performs puja every day. He also recites Sanskrit shlokas and hymns.
He is said to be common man's person or representative.
Pranab Mukherjee is a workaholic and works nearly 18 hours a day. He relaxes by listening to Rabindra sangeet before sleeping and this must be the secret of his cool temper.
Another secret of his fitness is that Pranab Mukherjee loves to walk especially in the morning and takes 40 rounds of his 90 m
lawn.
Pranab Mukherjee parliamentary career began in 1969 when he became a member of the Rajya Sabha from the Congress Party.
He's known to be a voracious reader and he usually starts reading three books simultaneously.
He is inspired by Chinese politician Deng Xiaoping.
He believes in Goddess Durga. It's also said that he fasts during three days of the Durga Puja.
He has not taken a holiday for the last 20 years except a trip to his village every year for Durga Puja, when he dons a priest's robe and performs prayers for four days.
Pranab Mukherjee was once famous for smoking his trademark Dunhill pipe. He gave up smoking many years ago and now advises others to kick the butt.
Indira Gandhi once suggested to Mukherjee that he hire an English tutor and brush up his pronunciation. He
simply refused, preferring his thickly accented Bengali English.
He began his career as a clerk in the office of the Deputy Accountant-General in Kolkata.
He is an early riser – and hits works after his puja every morning. At night, he reads before he goes to bed, and take a customary nap in the afternoon for an hour.
Mukherjee was derisively called a "rootless wanderer" by some of his party colleagues as he had never won a Lok Sabha election till 2004. When he won from the Jangipur Lok Sabha constituency in West Bengal in 2004, he literally wept with joy. "For me this is a dream come true, a dream I have cherished and nourished all my life," he had said.
Also, Read:
Speech by the President of India, Shri Pranab Mukherje