Behind Rashmi Siddharth Zagade IAS success story, is her school drop-out husband:-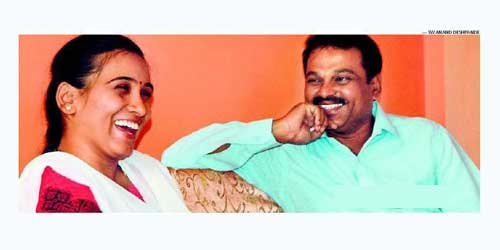 Twenty-nine-year-old Rashmi Siddharth Zagade, a housewife from Warje Malwadi, is the only woman IAS officer from Pune city, holding 169th rank among over 800 candidates. But her success story has been scripted by her husband Siddharth Zagade who is a school drop out.
Family Background
"My father expired when I was a child. My mother was not educated and our family had to struggle to make ends meet. So I could not continue my education. I always wanted to become an IAS officer. And now my dream has been realised through my wife, Rashmi Siddharth Zagade" says Siddharth her husband.
To convert their dream into reality, the couple sold their flat, 5-acre land in their native place and Siddharth even gave up his retail business in Tulshibaug. "I decided to concentrate fully on Rashmi's preparations for IAS exam. We bought books and other study material, she joined IAS coaching classes nearer home. We even changed the school of our daughter so that we could save time. I spent hours discussing national and international issues withRashmi Siddharth Zagade," says Siddharth. "My husband is Class IX pass, but his general awareness and knowledge is better than mine," says Rashmi Siddharth Zagade.
Educational Background
A former student of HHCP high school, Huzurpaga, Rashmi took her written exam and interview in Marathi. "Since my schooling was in Marathi, I opted for Marathi which comes naturally to me," she says. Till she graduated in BSc (Zoology), Rashmi had no clue what an IAS exam was all about. "It was my husband who prouded me to appear for the exam," she says.
Attempts by Rashmi Siddharth Zagade
Rashmi's IAS saga began in 2003. Though she could not make it in four attempts, she never thought of giving up. "That is because I had my husband's support," Rashmi Siddharth Zagade says. After four consecutive unsuccessful attempts — the fourth time she reached the interview stage — Rashmi decided to take a break for a year. This time when she reappeared, she opted for history instead of geography.
Now moving a step further Rashmi, wants to help out those who dream of becoming an officer but don't have the wherewithal for it. "I will guide, provide books and study material to all IAS aspirants in the city.
There are several students like me who have a dream, but no support or guidance to make it big. I am there for them," says Rashmi.
Also Read:
Suharsha Bhagat IAS, Rank 5 in Civil Services Exam 2015
Success Story of K Nandakumar IAS – A Lorry Driver's Son
Meet Sorabh Babu Maheshwari IAS Topper and Read his Interview