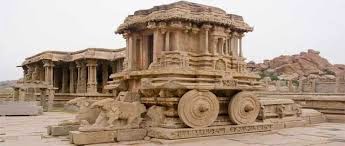 Hampi, a village in northern Karnataka is one of the most searched
historical places in India
. It is located within the
ruins of Vijayanagara, the former capital of the
Vijayanagar Empire
. Known for its ruins, which are a
UNESCO World Heritage Site
, Hampi is a must visit for many reasons. The ruins here stands to tell a story of India's rich cultural and historical past. We have listed down a few lesser known facts about Hampi that are bound to interest you… And for all you know, urge you to pack your bags and set forth!
Lesser known facts about Hampi!
According to the mythological epic Ramayana, Lord Rama and his brother had visited this region, while looking for Rama's wife, Sita. They visited this region to seek help from Vail and Sugriv (2 monkey brothers), who ruled the region. Due to such mythological references, this place was declared a World Heritage Site.
While it's a known fact that the ruins of Hampi are a UNESCO World Heritage Site, we must tell you that the Hampi Monuments, popular for their carvings date back to the 14th Century.
The name Hampi was derived from the word 'Pampa,' which is the old name of Tungabhadra River, on whose Southern banks the city is built.
The ruins and monuments are spread over an area of 26 square kilometres.
The first historical record of settlement in Hampi dates back to 1 CE.
The Hazra Rama Temple complex is known for its frescoes from the Hindu religion. It has over a thousand carvings and inscriptions depicting the story of Ramayana.
The Malyavanta Raghunathaswamy temple here flaunts peculiar motifs of fish and marine creatures.
The Virupaksha Temple also known as the Pampavathi Temple rises over 120 feet. Apart from the sculptures of Lord Shiva, this temple also contains shrines of the erotica statues Bhuvaneshwari and Pampa.
These are only some interesting facts about Hampi. There's much more to this heritage site and you
ought to visit the place to learn about the various stories about its history.
 Also, Read:
Character Estimation of Mahmud of Ghazni