Sharanya Ari hailing from Chennai, an IT engineer by profession has come out tops in Tamil Nadu in the UPSC Civil Services Examination 2015 and scored seventh at the all-India level. She is the lone candidate from Tamil Nadu to feature among the top 10 successful candidates at the national level. By her strong dedication and willpower to crack UPSC has made her achieve this position. Sharanya Ari is so inspirational as she teaches us to not give up on one's dreams no matter how hard the paths.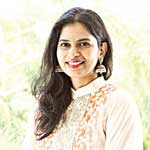 Sharanya Ari UPSC Topper says, "Given a chance, I would want to do something for women and children which I believe is an area that really needs focus. Empowering a woman is equal to empowering a family and I would want to play a part in it" the State topper said."
Must Read: Success Story of Veditha Reddy IAS, AIR-71, 2014
Marks Obtained by Sharanya Ari
| | | |
| --- | --- | --- |
| | Total Marks | Marks Obtained |
| Total (Written) | 1750 | 818 |
| Interview | 275 | 165 |
| Total | 2025 | 983 (48.54%) |
Family Background
Sharanya Ari, a native of Thanjavur, has big hopes that she will get her first choice cadre — her home state. Her father M. Arivazhagan is a retired Air Force Officer, motivated her to serve the nation by joining the Indian Administrative Service. Her mother J. Sathya Priya is a teacher at Government Girls Higher Secondary School in East Tambaram.
"Though I had an opportunity to fly abroad, for future studies but my parents wanted me to join Civil Services," said Ms. Sharanya Ari. She credits her success in the UPSC Civil Services Exam to her parents; she said that her parents are her inspiration and the driving force behind her achievement.
Also Read: Mohammed Ali Shihab IAS: An Inspiring Journey from Orphanage to UPSC
Educational Background
Sharanya Ari completed her schooling from Kendriya Vidyalaya at Tambaram and graduated with B.Tech degree in Information Technology from SRM University in 2011. Twenty-six-year-old Sharanya Ari could have easily been an IT professional like many engineering grads who pass out every year. But she chose not to. When she graduated from SRM University with a B Tech in Information Technology five years ago, she set her mind on becoming a Civil Servant and started preparing for the Civil Services Examination.
Sharanya Ari said she was inspired by Civil Servants whom she met during her college days and their work. She says that her belief in an examination could not purely judge her capacity is what made her take up the Union Public Service Commission (UPSC) exam time and again before she finally aced it.
Optional Paper
Sharanya Ari opted for Sociology as her optional subject. Her mother, a social studies college professor assisted her in preparing for optional subject of Sociology. The UPSC Topper, who graduated from SRM University interestingly nurtures a passion for Sociology and Social Sciences which she says is due to her mother.
You May Love to Read: Success Story of Khumanthem Diana IAS, AIR-24, 2015
Attempts by Sharanya Ari
The Chennai girl Sharanya Ari bagged the 7th place and emerged as one of the UPSC Toppers in her fourth attempt in the all-India Civil Services Exam. "It is a long-time dream of my parents. After failure, picking yourself up and motivating yourself is the most challenging part in Civil Services Exam. Unless you have family support, you will not be successful," said Ms. Sharanya Ari.
Her success comes after a determined pursuit of her dream. It was on her fourth attempt that she cleared the exam.
"This time, I was expecting to crack it but to find myself as the All India seventh rank holder is a pleasant surprise," Sharanya Ari told.
Have a Look: Success Story of Amit Pal Sharma IAS, AIR 17, 2015
Credit of Success
Sharanya Ari says that she had an assurance that she would clear this 4th attempt of her's but she was shocked to see the result and to know that she stood 7th in the whole of India. She says this is the pleasant news to her and she gives this full credit to her parents and friends and all her beloved one's as they constantly kept motivating her through the journey of the UPSC and she also said that after the results she is constantly getting calls from many people who are congratulating her for such a great achievement .
Sharanya credits her family's support as a big factor that enabled her success. "Everytime I was down, they encouraged me. Their words and support were a great source of hope for me."
With her ranking so high, she will get her desired service which is the Indian Administrative Service.
Don't Miss: Success Story of Dhanbad boy Karan Satyarthi IAS, AIR-9, 2016