Haulianlal Guite cleared the 2010 Union Public Service Commission Examination by securing All India Rank 33rd in the Civil Service Examination. Guite is a 23 year old young lad and emerges as the youngest among toppers of the state and sees potential in Manipur in producing toppers in good ranks.
Haulianlal Guite disclosed that if he were given the opportunity in Manipur, he expressed his desire in preserving the ecology of Manipur and arranging alternative livelihood for those whose activities is threatening it. Besides, encouraging animal husbandry and improvement of road connectivity.
Haulianlal Guite further suggested the need of introducing logical reasoning which he sees as a helpful tool in studies and appearing in competitive examinations and asserted that he does not believe in 'punishment' and such but productive measures to encourage students. And most importantly, lamented on the lack of Library facilities in the schools of Manipur. "These things are vital, my success and experiences is the testimony" Guite said.
Must Read: Grocer's Daughter Sweta Agarwal Cracks UPSC Exam
Marks Obtained
| | | |
| --- | --- | --- |
| | Total Marks | Marks Obtained |
| Total (Written) | 2000 | 1024 |
| Interview | 300 | 240 |
| Total | 2300 | 1264 (54.96%) |
Family Background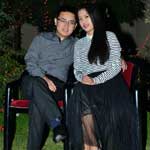 Haulianlal Guite comes from Churachandpur district of Manipur. The 23 year old IAS topper Guite, is the eldest of the four siblings of Dr. Thangchinkhup Guite (father) MHA, USA and Dr. Dr. Paozachiin Guite, an eye specialist. Haulianlal Guite has one brother Lalgoumang Guite and two sisters Jammanlian and Lianching.
You May Also Love to Read: MLA's Son Dr. Vivek Kumar Cracks UPSC Exam, 2016
Educational Background of Haulianlal Guite
Haulianlal Guite completed his schooling till six standards from St. Joseph School, Churachandpur. After class sixth he was shifted to another school for his futher studies at the St. Paul institute, Churachandpur, and completed his matriculation from there. After completing his class 10 and for higher secondary studies he studied at Air Force School, New Delhi. After completing his schooling he graduated in Philosophy from St. Stephen College, Delhi University.
Haulianlal Guite received a most lucrative offer from an American University to study and work as a research student. Fortunately or otherwise, this offer he had to forego as his dad has bigger plans for him.
Also Read: UPSC Board Interview of Paramvir Singh IAS, AIR-29
Optional Paper
Haulianlal Guite, who cleared the 2010 Union Public Service Commission Examination opted for Sociology as his optional subject.
"I feel that we have devastated, may be unconsciously, our forest resources, especially in term of plantation, jhum cultivation and, unless we can protect our environment, take measures towards this direction," said Guite. Guite wishes to work on preserving forests and ensuring that ecological balance is maintained. Besides that he also observed the need of reformation of Education system in the state especially the Matriculation. He mentioned that the syllabus is somewhat narrow when compared to other boards.
Have a Look: Success Story of Kashmiri Girl Sheema Nabi Qasba Cracks UPSC Exam, 2015
Attempts
Haulianlal Guite asserted that this was his second attempt and also revealed that he was confident of going through the exam but was expecting within 300 positions. His out most desire was to become a philosopher, which was developed in him after finishing his twelve standards, but somehow landed in appearing Civil Service owing to his father's suggestion.
Preparation Strategy
Responding to his preparation strategy the young topper, Haulianlal Guite maintained to spend 4 to 5 hours a day on reading on regular basis. For Prelims Haulianlal Guite said he prepared his notes by himself based on previous papers and college notes and took coaching for Mains exams, and also read his academic books.
Haulianlal Guite also reads newspaper which includes The Hindu and The Times of India. However Haulianlal Guite disclosed that he enjoyed reading The Times of India. The names of some of the books he used while preparing himself for the examinations included Indian Polity Chronicle, Pratiyogita Darpan, Science and Technology-Spectrum publication etc.
Haulianlal Guite is a strong believer of God and determination, he gives his credits of success to God and his parents. "God help those who help themselves", said Guite.
Don't Miss: Farmer's Daughter Michelle Queenie D'Costa Cracks UPSC Exam