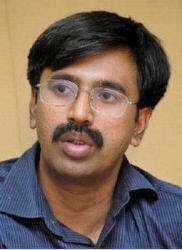 Mr.B.Satheesh Balanan IPS officer of batch 2004, has worked at various colleges and schools as a lecturer and PG teacher in Chennai. He has done his M.Sc. in Physics from Govt. Art College, Coimbatore and schooling from Coimbatore Corporation's school at Masakalipalayam. After his induction in Indian Police Services as an officer he has worked as ASP under training at Kurukshetra and also at Panipat. Later on, he has served as DCP in Gurgaon, Haryana and is currently working as Superintendent of Police at Jind. His deep commitment and dedication to duty in tackling crime and criminals in Jind demonstrated his excellent leadership ability. He spent time in understanding the criminal's behaviour in his District and went all out against them.
A very Inspirational nd Motivational story of an IPS Officer–
Mr. B. Sateesh Balan IPS
******************************************
("I have faced very bad times. The situation was so bad that I had only Rs. 4 or Rs. 5 to fend for myself for three days in Chennai")
Coimbatore: Are you looking for a fact which looks a fiction? Here is one. The life and struggles of 33-year-old B. Satheesh Balan deserves to be ranked
among the 'Slumdog' category. But here luck has played little role even
as the oft-quoted adage "no free lunch" echoes in every sinew of Balan's family
which had to forego lunch on many an occasion.
"Many a time the only lunch, that too provided by my friend, was groundnuts,"
remarks Mr. Balan. Now he is an IPS officer of the Haryana cadre. And as ASP, Panipet, he was the one who investigated the Samjauta Express tragedy which claimed more than 50 lives. He hails from Arasur, a sleepy village in Coimbatore district, and had his education from a panchayat union elementary school there up to Standard IV. Then he had to shift to the Corporation elementary school at Masakalipalayam. Mr. Balan tells G. Satyamurty about the slings and arrows of outrageous fortune that he had to face to become what he is. "I was born to parents who were active trade unionists and it was an inter-caste marriage as well in 1960s. To be frank, it was my mother who fed me through her tailoring as my father was involved in jobs only of non-permanent nature. He was more often than not acting like mother attending to household chores.
Then I had to shift to the NGR Higher Secondary School, Coimbatore, to study
up to Class X. As a student and school pupil leader, I chose to sing a song in praise of the veteran trade union leader after whom the institution was named.
Whereas, my father was sent out of the same school for refusing to sing the same
questioning the rationale behind it."
"Then I did not have even a chappal, which I used to borrow from friends. The
minimum that was insisted by the school was uniform and chappal. "Even I.C.Govindasamy, the Head Master with a heart of gold, was irritated when I
told him I could not afford even a chappal. He was the one who was instrumental in improving my English and discipline."
Similarly, he recollects the kind- heartedness of his Standard IX teacher
Jayalakshmi, who gave him two new shirts on seeing him switch his seat in
the class to cover up his torn shirt from the view of girl students. "Besides, I used to work as a petrol pump attendant, especially at night, during weekends."
After doing Plus Two in Sarvajana Higher Secondary School, he graduated and
post-graduated in physics from the Government Arts College, Coimbatore. "I joined B.Sc. Physics in Tamil medium, just for the sake of getting the
scholarship of Rs. 180 per semester."
His academic attainments could be
achieved only through the sacrifice of his
elder brother, who quit studies to join a
private company. In 1998, Mr. Balan left for Chennai to join
two of his friends preparing for Civil
Services. Then he was absorbed as a PG
Assistant in a CBSE school for a "princely"
salary of Rs. 1,800. Attacks twice from typhoid and once
from a viral fever took away 15 kg and
he had to seek the help of his father once
again for the domestic chores. "In 2001, I cleared the preliminary as
well as the main examinations and the
results came in 2002." However, he could
not get through the interview. Next year, he joined the Civil Services
Coaching Academy of the GRD Trust,
Coimbatore, and emerged successful on
May 7, 2004. "Now, I am the
Superintendent of Police, Jind."
"Hailing from lower middle class, I have
faced very bad times. The situation was so bad that I had only
Rs. 4 or Rs. 5 to fend for myself for three
days in Chennai. Even when I was a PG
Teacher at a T.Nagar School, I had to
change a number of restaurants so that I
could pay them slightly later. When I was staying in a mansion with my
friends so that I need not pay any rent, I
had to run out even in odd hours to
escape from the frequent raids." Even as a teacher he could afford only
meals that cost Rs. 5. "You may very well imagine the quality
of such food." Mr. Balan admits that coming from a
trade union environment he had lots of
prejudices and was moulded into a
particular ideology. It was his wife, who
made him see the reality.
"To become a successful professional, I
had to change a lot and give up a lot of
prejudices. I was not a man with
progressive ideas. Though she was just a
matriculate, she had a far clearer vision
and now even my social vision has changed.
"According to Mr. Balan, the major
problem with regard to mofussil
candidates attempting the Civil Services
examination is "lack of confidence."
This is a basic problem with the middle
class as well. "The rural ones are in no way inferior.
But it is true that not only do they lack
confidence but also communication
skills," he says