The Government of India on 5th September 2015 announced the implementation of One Rank One Pension Scheme (OROP Scheme) which addressed more than 40 years long demand of defence personnel. Let's have a look on what One Rank One Pension is all about? Why was it needed? What are challenges with OROP? and many other answers you wanted to know about this scheme.
Our defence forces should remain young and it can be ensured only through early recruitment and early retirement.
As we say defence personnel or servicemen it implies to the defence forces staffs of Indian Army, Indian Navy, and Indian Air Force.
Prime Role of our Defence Forces
To maintain sovereignty of the country
To neutralise any external aggression
To defend Indian territory
To defend sanctity of Indian air space
To defend sanctity of Indian territorial water
To fight war
What is One Rank One Pension?
One Rank One Pension (OROP) implies that uniform pension to be paid to the armed forces personnel retiring in the same rank with the same length of service regardless of their date of retirement.
At present ex-servicemen receive differential pensions as it is calculated on the basis of their salary at the time of their retirement.
Under this scheme for any future enhancement, the benefit will be automatically passed on to the past pensioners.
Why the One Rank One Pension Scheme was in demand?
Let's have a look on retirement age of servicemen:
| | |
| --- | --- |
|  Category of Servicemen | Age of Superannuation/Retirement |
| Sepoy | 35-38 years |
| Non Commissioned Officers | 40-45 years |
| Junior Commissioned Officers | 40-45 years |
| Most of Commissioned Officers | 50 years |
| Very few – Lt. Gen, Air Marshal, Vice Admiral etc. | 60 years |
Only 10 percent of Sepoy get chance to become Non Commissioned Officer or Junior Commissioned Officer. Most of Officers retire in early 50s of age.
Also the number of Sepoys are very much higher than above ranked service. The Pyramid structure of defence personnels has a very broad base.
At the same time the age between 40-60 years known for most of the family and life responsibility in life of an individual like study of children, marriages, health issues etc.
As most of the servicemen gets retired in early age and become dependent on pension for a very long period, there was a wide difference gets created in the average pension of a person retiring today and one who retired 40 years back because the pension according to earlier scheme was calculated on the basis of salary withdrawn at the time of retirement, and increment was also based on that only.
From 1973 onwards defence personnel were demanding this. Because different pay commissions have hiked the salary of defence personnel but not much consideration given to pensioners.
Features of OROP
The base year for calculation is 2013
Effective from July 2014
OROP will be average of minimum and maximum pension scale of 2013 (base year)
Those who are already drawing higher pension above this newly calculated average will be protected from any disadvantage
The Revision will be done in every five years. (protesting servicemen were demanding revision every year or in every three years)
One member Judicial Commission constituted and report to be submitted in six months. (protesting ex-servicemen were demanding five-member commission including ex-servicemen as members)
Arrears to be paid in four half-yearly installments (i.e. in two years)
Arrears of all widows (beneficiary under the family pension or war widow) will be paid in single installment.
Timeline in the History of OROP
1973 – The Government of India decided to reduce the pension of ex-servicemen from 70 percent to 36 percent of average salary. The reason behind this reduction was significant hike in salary of defence personnels. Even after this decrease in percentage the difference remained high between old pensioners and new pensioners.
This incident sparked the demand of One Rank One Pension by veterans of Indian Defence Forces.
Also Read : Indian Defence Awards
2011 – An all party 10 member Parliamentary Panel was constituted under the Chairmanship of B. S. Koshyary. The panel submitted its report to the parliament in December 2011.
In its report it recommended two major requirements –
OROP Scheme for ex-servicemen should be implemented as early as possible. It also defined the what one rank one pension is all about.
A separate pay commission for defence forces instead of central pay commission.
2014 – Protest by different retired servicemen intensified and peaceful demonstrations were became visible.
Just before General Election the UPS government accepted the OROP in principle.
Almost every political party included implementation of OROP in their election manifesto for General Election.
2015 – Finally on September 5th, 2015 Prime Minister announced One Rank One Pension Scheme.
Challenges associated with One Rank One Pension
The new scheme is going to put a burden of Rs. 8300 crore annually on the exchequer of India. Which will increase significantly year after year.
Complex calculation in fixation, it is going to be a humongous task to come up with the simplified number for across three services, so many ranks, so many method of employments,  ex-serviceman of British Indian Army their dependent etc.
How the government is going to deal with similar nature demands in other services like Central Armed Police Forces.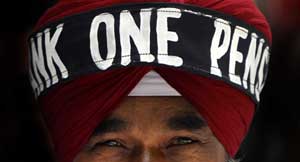 Initially it came into information that all ex-servicemen who has taken VRS (voluntary retirement) will not be get benefit of One Rank One Pension Scheme but objected by veterans, their point was VRS don't even exist in defence service, but a Premature Retirement Scheme which says that after serving a period in services one can take premature retirement and will be eligible for pension. Later PM Narendra Modi himself made it clear that no personnel will be deprived on the basis of VRS or PMR.
Discipline, control and command are fundamental characteristic of servicemen. To maintain it they are having time tested mechanism one such mechanism includes punishment by withholding increments for certain period for a misconduct or wrongdoing. Now this scheme make everyone even at the time or retirement which may reduce the utility of punishment and its fear among servicemen in later period of service.
What is better alternative to One Rank One Pension?
Let's have a look at these ratios:
| | | |
| --- | --- | --- |
| Serving Military Personnels | : |  Military Pensioners |
| 1 | : | 1.7 |
| Civil Workforce | : |  Civil Pensioners |
| 1 | : | 0.56 |
Total number of  military pensioners exceeds 26 lakhs.
In many other countries like Russia, China, Israel, etc. they allow lateral movement of defence forces personnel. Instead of increasing current account deficit through scheme like One Rank One Pension India can also achieve it by allowing veterans into other services like Central Armed Police Force, Central Para Military Force, Civil Staff of Defence Ministry, etc. It will be beneficial for both the parties.
It was recommended by the 6th Pay Commission, but government did not show any interest in making it possible.
How it will work? Let's have a look at following data.
Central Armed Police Force have 8.5 lakhs strength.
Defence Civilians in Ministry of Defence is approx 4 lakhs.
And both of these (CAPF and Ministry of Defence) takes fresh entry of around 45,000 staffs every year. On the other hand an average of 40,000 defence personnels are released from defence forces every year. It is possible to allow them to fill the requirement in other services as suggested by many experts, which can significantly reduce the the load of government exchequer.
Also Read: Indian Missiles Development