India is an agricultural country which mainly depend on the rainfall. Different regions of India receive the different amount of rainfall. Based on the amount of rainfall they receive annually, renowned climatologist Kendrew categorized various parts of the country into 3 rainfall regions. They are as follows:
HEAVY RAINFALL REGIONS
LOW RAINFALL REGIONS
MODERATE RAINFALL REGIONS
HEAVY RAINFALL REGIONS (>200CM):
The regions of the country which receive more than 200 cm of rainfall annually will come under the heavy rainfall regions. To receive such huge amount of rainfall some favourable conditions are needed like coastal location with mountain barriers, islands and many more. Let us take a look at them.
Must Read: Water Resources of India
MALABAR COAST:

The Malabar Coast includes entire Kerala and south western part of Karnataka. When the monsoonal winds enter the Malabar Coast from the Arabian Sea they are obstructed by the Western Ghats from proceeding further and due to this, there is heavy rainfall in the Malabar Coast.
ISLANDS:
The islands of India, Andaman & Nicobar Islands in Bay of Bengal and Lakshadweep Islands in the Arabian Sea receive a huge amount of rainfall as they are present in the midst of water and no need of monsoonal winds to generate rainfall.
NORTH-EASTERN STATES:
The north eastern states of India (seven sister states) also come under heavy rainfall regions as there are mighty the Himalayas in the north to obstruct the monsoonal winds coming from the Bay of Bengal in the south.
We can find thick forests in the heavy rainfall regions of India. But, agriculture of main crops like rice and wheat cannot be done here due to the heavy wet surface.
Also, Read: Major Ports in India
LOW RAINFALL REGIONS (<100 CM):
The areas of the country which receive less than 100 cm of rainfall annually come under this category. These regions are again divided into two sub categories:
SEMI ARID REGIONS (50-100 CM)
ARID REGIONS (0-50 CM)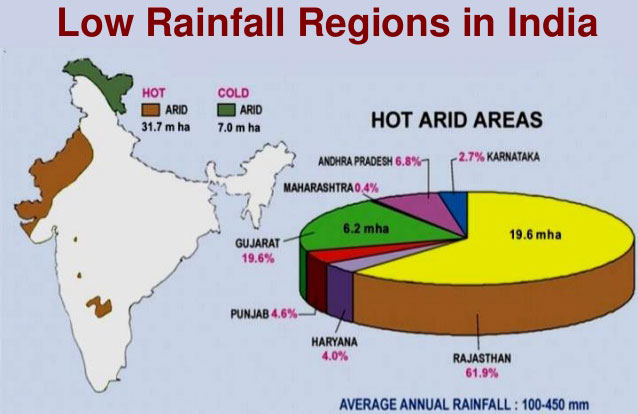 SEMI-ARID REGIONS (50-100 CM):
The rain shadow interiors of the Western Ghats that mean Plateau regions of Telangana, Chhattisgarh, Madhya Pradesh comes under this category. The Western Ghats which causes heavy rainfall in Malabar Coast obstruct the monsoon winds moving further thereby making these regions semi-arid.
In addition to these some parts of Western India such as Eastern Rajasthan, Parts of Gujarat, Haryana and Delhi comes under this region. Only some agricultural crops can be grown here.
ARID REGIONS (0-50 CM):
The Arid region includes the Great Indian Desert in Rajasthan, the Rann of Kutch in Gujarat and Leh&Ladakh regions in Jammu and Kashmir which sometimes don't receive rainfall at all throughout the year.
MODERATE RAINFALL REGIONS (100-200 CM):
The rest of Indian region comprising of Coromandel Coast (Tamil Nadu), Utkal coast (Orissa and northern coastal Andhra Pradesh), parts of Bihar and Uttar Pradesh, Konkan Coast (Maharashtra and Goa), West Bengal receive the moderate amount of rainfall. All types of food crops and commercial crops are grown in these areas.
In addition to the Himalayan region is also present which exhibits typical reception of annual rainfall that is it receive all types of rainfall mentioned above and thus the vegetation grown.
CONCLUSION:
Thus, this classification of India based on the reception of annual rainfall helps us to plan our agriculture preferences, Dam construction regions and so on and hence of strategic importance.
Also, Read: