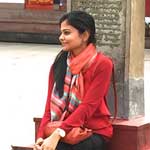 Varanasi girl Artika Shukla of 25 years cracked prestigious Civil Services Exam and one of the toughest exams and made her city proud by securing fourth rank in the 2015 UPSC Examination in her first attempt. She has achieved this stunning success without taking any coaching classes. It is also commendable that for preparing Civil Services, Artika Shukla didn't left her job or study and continued to work as a Junior Resident at PIMER, Chandigarh. She is brilliant and anyone looking for inspiration can look at her. Artika Shukla said "if one has a dream, they should just follow it."
"This is a great moment. I will work tirelessly for bringing a positive change in lives of the poor. I will be an honest officer with a difference as the god has given me a chance to serve the people. I will do it with utmost sincerity and dedication. I want to see India on top of the world. As an IAS officer, I will make efforts for it," achiever Artika Shukla said.
Must Read: Meet Tina Dabi IAS Topper 2015 – 2016
Family Background
Artika Shukla was born and brought up in Varanasi. She lives in a resident of Gandhinagar, Naria. Her father Dr. Brijesh Shukla is a physician and a former secretary of the IMA. Her mother Lena is a housemaker who played a key role in gaining success. She is youngest among two siblings. Her eldest brother Gaurav Shukla, had cracked UPSC Civil Services in 2012 and got IAS. He is currently posted in Guwahati. Other elder brother Utkarsh Shukla is an officer of Indian Railway Traffic Services (IRTS).
Her elated father said, "It is a happy and proud moment for us. She had worked really hard and always been an intelligent student and also I am glad that luck was on her side. In fact, we used to give quite a high importance to education."
Read Also: Meet Athar Aamir-ul-Shafi Khan IAS, AIR – 2, 2015
Educational Background of Artika Shukla
Artika Shukla completed her schooling from St. John School, DLW, Varanasi. She was a throughout topper from this school. After schooling, she cracked Pre Medical Test and went to Maulana Azad Medical College (MAMCH), New Delhi for MBBS and completed in 2013. Dr. Artika Shukla has worked as an intern with Lok Nayak Hospital, Delhi and later joined Postgraduate Institute of Medical Education and Research (PGIMER), Chandigarh as a Junior Intern. Dr. Artika Shukla is currently pursuing doctor of medicine (MD) in Pediatrics from Chandigarh.
It was in 2013 when Artika Shukla decided to prepare for UPSC Civil Services. Aritka Shukla quited her MD paediatrics course in November 2014. "When I decided to opt out of the course to prepare for IAS, many people told me that it was a wrong decision and that I should give it a second thought. But, both me and my elder brother Utkarsh Shukla were firm and encouraged me and asked me to go ahead, this is what I wanted and started working hard for it," Artika Shukla said.
Read Also: Meet Jasmeet Singh Sandhu IAS, AIR-3, 2015
Optional Paper
Artika Shukla chose Medical Science as her optional subject because she has indepth knowledge of it that helped her a lot in stunning success at UPSC Civil Services Examination, 2015 and has achieved All India Rank 4 in this highly prestigious competitive exam. She calls her brother as her source of inspiration. Artika Shukla also draws inspiration from former President the late Dr. APJ Abdul Kalam.
Attempts
Dr. Artika Shukla is overwhelmed by attaining AIR 4 rank she secured in her very first attempt. "The feeling is yet to sink in. It is almost unbelievable. My phone has not stopped ringing ever since the results were declared and I am just too happy," Artika Shukla said.
Also Read: Tina Dabi tops UPSC Civil Services 2015-16 Results
Preparation Strategy
It was in 2013 when Artika Shukla decided to prepare for UPSC Civil Services. Artika Shukla said, "At first, I was contemplating how to proceed with it. But, then my brother really helped me with all materials so there was no need to join any coaching for preparations and sought all help and guidance from my brother. I managed to prepare for it while shuttling between Varanasi and Delhi and Chandigarh. Later in August last year, I joined test series for Mains Exams and also did some mock interviews in Delhi for interview preparation." She has been in the Varanasi since March this year.
Artika Shukla happily credited her success to her brother Utsav Shukla who helped her to prepare for UPSC Exam and being her 'pillar and support' all throughout. She couldn't afford to give much time for preparation and was completely relying on the inputs for preparation from her IAS brother. Her brother did lots of help and provided useful tips, including his GS notes.
Don't Miss: How to Crack IAS Exam in First Attempt – Top 10 Success Sutras