RV Varun Kumar, who considers Sachin Tendulkar his icon for his hunger for excellence, speaks out on what made him succeed in the most prestigious exam of India. He secured 3rd rank in the UPSC civil services exam 2010.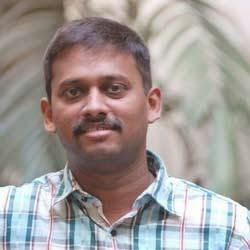 Q. Please tell us about your childhood, family background, schooling and higher education.
A. I studied at Campion Higher Secondary School, Trichy, Tamil Nadu. It is the best institution I have ever come across. What I am today, I owe it to my school and parents. My dad is a professor (economics) and my mother is a housewife. My brother works for Ericsson, USA. I completed BDS at Ragas Dental College, Chennai. The discipline and the learning style which I applied in CSE 2010 were taught to me at my school. I extend my special thanks to the institution.
Q. When and why did you choose to become a civil servant?
A. I am not ashamed to confess that a movie inspired me to think about Civil Services Examination. In 2003, I watched a Tamil movie by the name 'Kakha Kakha' and it initiated my thought process. Anything can initiate a person; ultimately it is the performance in the job that matters. The desire to join the IPS was always lying deep within and this movie definitely initiated me to chase my dream.
Q. Was CSE a planned decision? How did your parents support you?
A. It is not possible for anybody to clear this examination unless it is a thoroughly planned decision. I decided to take up civil services in 2007 and it took four years to reach the pinnacle. My parents were never doubtful about my decisions and they stood by my side.
Q. It is very difficult to figure out where to start and how to start. What was your strategy when you first decided to prepare for CSE?
A. The first thing a marathon runner plans is the 'start'. Many candidates fall prey to the thought of becoming a topper and giving interviews to the media. CSE is a long process and one needs to sustain the energy. So I realized that it is not a world full of rainbows and sunshine, hence I decided to take it step-by-step. My primary target was to clear the preliminary exam. I advice candidates to stop worrying about getting the preferred service, preferred state cadre, etc. Instead one can face the examination step-by-step. It will relieve the candidate from the immense pressure created by this exam. Pressure hampers preparation. So to start with, one has to focus on preliminary exam and I suggest one full year of preparation before taking the preliminary exam. First attempt should be the best attempt in my opinion.
Q. Please tell about your icon, hobbies and interests.
A. My icon is Sachin Tendulkar. I am not a great fan of the cricketer in him but I admire him as a person in general. He has immense energy and shows a lot of conviction towards his work. The work we do should never be a burden to us; this is what I learnt from him. I try to emulate him and everyone should develop a 'child-like desire' to win, irrespective of whichever field we work in.
I love watching world cinema and documentaries. I worked hard to receive an award in relation to my hobby. I succeeded too. I received the 'Film Buff Award' at the 8th Chennai International Film Festival for my movie reviews. By winning this award after mains examination I obviously had a better chance to score high in interview than any other candidate.
Q. How many attempts did it take for you to taste success?
A. CSE 2010 was my third attempt. I read for 2 months before my first attempt. I faced an unprecedented defeat. That motivated me to do well in CSE 2009. I cleared the preliminary exam but skipped the mains exam because I chose to prepare properly for CPF (AC) exam. Also I did not want to score a rank in 100s or 200s. So after securing rank 67 in CPF Exam, I took leave from training and gave my heart and soul to CSE 2010.
Q. How confident were you about succeeding in the CSE?
A. 100%. I never expected a rank other than Rank 1. I am still thinking about how I missed it.
Q. What was your first reaction when you heard that you have cleared the exam with flying colours?
A. Disappointment. I checked the results and did not hear it from anyone. It was a happy result but not the best result. Rank 1 could have been the best result. There is a thin line between arrogance and confidence. Candidates can be very confident of getting rank 1 too. It all depends on the amount of work we have put in.
Q. How helpful are coaching institutes?
A. There is very high chance of getting fleeced. Do not get carried away by the number of candidates enrolled, difficulty in getting admission, colorful websites, tall claims by way of advertisements etc. Instead, speak to candidates and find out about the teachers. Coaching institutes are helpful but one should always view them with suspicion as they might 'kill' our creativity and push us into a style we may not be comfortable with. There is no assurance that what they say or teach might be true. It is better to trust good authors. Coaching institutes are helpful when you learn how to use them.
Q. Did you use the internet? How helpful was it?
A. I used Wikipedia umpteenth times. Press Information Bureau will be of particular help when you need government related data. 'Google books' is another source to have a brief look at various books.