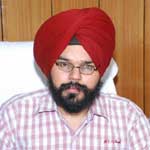 When you really want something to happen, the whole universe conspires so that your wish comes true." As these words are immortalized by Paulo Coelho that reverberate in his mind, Prabhjot Singh at the age of 24, knows that his never say die spirit and family's support made it possible for him to secure the sixteenth rank in the coveted UPSC Examination. Before cracking UPSC Exam, Prabhjot Singh was working with Indian Space Research Organisation (ISRO) as a scientist at Ahmedabad.
"My dream has come true after years of hard work. I always wanted to join the civil services and have been trying so for the past three years. This time, by God's grace, I have not only qualified it, but also have stood first in the city," exclaimed Prabhjot Singh, who has secured the 16th rank in the country and owes his success to his parents, who he says, have been his strength.
The city has managed to add another feather in its cap with Prabhjot Singh. That was the first time that a candidate from the city has come among the top 20 scorers in the civil services exam. He says, "the opportunity to serve people of this country is the maximum in this job. The social prestige and associated dignity is a by product. But only Waheguru G can make one's hard work fruitful because it's not just hard work but luck too plays a big role".
Must Read: Dr.Ruveda Salam IPS – First Women from Kashmir to Qualify UPSC Exam
Marks Obtained
| | | |
| --- | --- | --- |
| |  Total Marks |  Marks Obtained |
| Total (Written) |  2000 | 1081 |
|  Interview | 300 |  180 |
|  Total |  2300 |  1261 (54.83%) |
Family Background
Prabhjot's father Gurdev Singh is a superintendent in Post Office, at Ferozepur and mother Satwant Kaur is a clerk in the postal department.
Happy over Prabhjot Singh's achievement, a proud father said, "Even as a child, he was bright and continued to shine in studies till graduation. He was a gold medalist in Physics. It was our dream that Prabhjot Singh become an IAS. He's finally achieved it".
Educational Background
Prabhjot Singh completed his B.Tech in Electronics and Communications from Guru Nanak Dev Engineering College, Ludhiana in 2006. There after he started preparation for Civil Services.
Read Also: Topper's Story – Harshika Singh IAS, AIR – 8, 2011
Optional Paper
Prabhjot Singh opted for Physics and Punjabi Literature as his optional subjects. Earlier he had Physics and Chemistry as optionals.
For Punjabi Literature, the biggest challenge is to find right resources. He suggests the aspirants, "whether you should take Punjabi Literature or not, if yes then the best way is to start reading novels of Nanak Singh because that is the most interesting part of whole syllabus. If you find it boring then in no way you should take it, because have faith on me, most of the syllabus is much monotonous than these novels for that matter".
Attempts by Prabhjot Singh
Prabhjot Singh could not qualify Prelims in his 1st attempt, in 2nd attempt he reached up to interview but finally failed. Prabhjot Singh changed one of his optional paper and got 16th rank and this was his third attempt at cracking the Civil Services Examination. He took coaching from Patiala for three months, followed by rigorous self study.
Advice for Aspirants
There is no substitute to hard work.
Regular coaching and expert guidance prove helpful.
Study hard regularly. But productive study periods are the key.
Leave no stone unturned to attain your goal and study for 8-10 hours everyday.
Concerted efforts, belief in one's capabilities and some hours of study daily are essential.
Hard work should be done in a strategic manner with proper planning. Because this hard work is worth as this is the best job one can get.
Don't Miss: Inspirational Story of Sandeep Kaur IAS – Retired Peon's Daughter