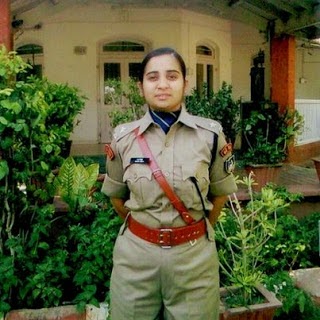 SARAH RIZVI (IPS) failed in the first two attempts in the preliminary exam but succeeded in the third attempt.
Sarah Rizvi, 29 is the only Muslim woman IPS (Indian Police Service) officer in Gujarat Police. She is the role model for every parent who wants to teach their girl child and for all those women aspirants of Civil Service Exams. She is from the 2008 batch of Gujarat cadre.
Born in Mumbai, Sarah belongs to an educated family. Her father Afzal Ahmed is a Science Graduate and Mother Nigar Rizvi is an alumnus of Aligarh Muslim University. Her brother Wasif Rizvi is a civil Engineer employed in Saudi Arabia and sister Sameera is a computer science graduate settled in Dubai. Sarah married to Munawar Khan, a trainee Asst. Security Commissioner in RPF, in 2008.
Excerpts from interview with Sarah Rizvi
Q: Tell us about your childhood and education.
Sarah: I am from a humble background. My father was a small businessman dealing in readymade garments. My grandfather died early in my life but my maternal grandfather loved me very much. I was born in Mumbai and brought up and got educated in Mumbai. I did graduation in commerce from MMK College, Mumbai.
Q: Why did you opt for Civil Services?
Sarah: After completing graduation from MMK College, I attended a lecture on the competitive exam. I got inspired by a lecture of Dr. K.M. Arif, educationist and chairman of Dream Foundation.
I failed in the first two attempts in the preliminary exam but succeeded in the third attempt. I wanted to become Chartered Accountant and completed Foundation Course while doing graduation. But Dr. Arif suggested that I should go for civil services. My family supported me in decision making. MESCO, Modern Educational Social & Cultural Organisation, a trust in Mumbai helped me financially. Finally I got training for the IPS from Mussoorie, Uttarakhand.
Q: How did Muslim society react over your achievement? Did you get any awards?
Sarah: I cleared UPSC exam in 2008. AMU recognized and awarded me. Even when I topped in XII exam, I was appreciated and felicitated by our neighborhood in Andheri (w), Mumbai.
Q: Can you share your experience of the first day as an IPS officer and where were you posted first?
Sarah: My first posting was in Jamnagar district of Gujarat as a probationer IPS for the six months and then I was transferred as Assistant Superintendent of Police, ASP in Gondal, Rajkot. On my first day I detected a case where four bikers looted a man within 24 hours. That's the most memorable day of my life.
Q: Women are emotional. Do you have any experience when you got emotional?
Sarah: Whether men or women, Police are also human being. We have to deal with the people who are in distress and we are trained for it. We have to be tough because we deal with criminals and getting emotional will affect our duty towards the society.
Q: Your worst day as an IPS officer.
Sarah: After becoming an IPS officer, I loved my job and never got upset with my duties. In fact I am proud to be a woman IPS Officer. Having said that I think when Naxalites killed 78 CRPF personnel in Dantewada I felt very bad. That day was my worst day, I think.
Q: Are you related to any social activities besides being an IPS.
Sarah: I am member of MESCO, a Mumbai based NGO and they call me very often in their programmes to inspire and guide others.
Q: What's your hobby?
Sarah: I love my mother tongue Urdu. I listened to Urdu Gazalas and also tried my hand in writing it although could not publish it. I used to write articles in my college days which got published. I also like to cook and do it very often for my family.
Q: Do you have a dream that remains to be fulfilled?
Sarah: All my dreams have come true. But, yes, after becoming an IPS I would like to change the image or the public perception about the Police force.
Q: Who is your Role Model?
Sarah: While in training as IPS, I was very impressed and learnt a lot from our Director Mr. K. Vijay Kumar. He was the director of Sardar Vallabh Bhai Patel National Police Academy in 2009-10, an IPS from Tamilnadu cadre.
Q: Who is your best friend?
Sarah: My sister Sameera is my best friend.
Q: Any message for Muslim women.
Sarah: I would like to convey to all women that life is a precious gift from Allah and only we can make or spoil it. I urge Muslim parents to educate their girl children and make them capable of making their own decisions. I dedicate a couplet to those girls who are taking education as a challenge…
Shahraahe Zindagi se Doston Guzro to Yun,
Dhoondhne wale Tumhara Naqsh-e Pa Dhoondha Kare.