"You are all alone at some point during the struggle"
Shuchita Kishore, IAS Topper 2010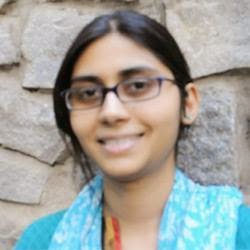 Young woman from Lucknow, Shuchita Kishore, who got 39th position in the Civil Services Exam 2010, spoke to Gulshan Sharma
Shuchita's is the story of an ordinary but determined girl. Drawing her inspiration from the interviews of IAS toppers and closely following their advice, this young woman from Lucknow finally realised her dream of becoming a civil servant in her third attempt. Shuchita means pure, simple and honest. That's exactly how this slim and tall young woman of 27 comes across as she makes an effort to smile in front of the camera. Thoughtful and composed in her Salwar Kurta, the 39th ranker in the UPSC Civil Services exam 2010 opines that diplomacy must precede military action as she hopes to become an IFS officer.
One of the four daughters of retired UP government official Mr RK Srivastava, Shuchita could not clear the Prelims in her first attempt at the UPSC due to lack of proper guidance. The second attempt was encouraging as she managed to reach the interview stage. Finally in 2011, Shuchita's efforts paid off as she secured 39th rank in the Civil Services exam 2010. The hard work clearly reflects in her eyes as she recalls, "It was not that easy to go in for three consecutive attempts but I derived strength from my belief in God."
As she pursues her PhD in English Literature from Jawaharlal Nehru University in New Delhi, Shuchita takes pride in showing the copies of IAS interviews that she read way back in 2004 in Jagran Josh. The young diplomat in the making first decided to be a civil servant when she was in class 7 and considers 1996 UPSC topper Mr Iqbal Singh Dhaliwal and 2005 UPSC topper Mona Pruthi her role models. Shuchita loves reading literature and quizzing is her favourite hobby.
Education
Shuchita Kishore went through schooling in Lucknow where she scored 89% and 86% in her class 10 and 12 exams. She then joined Lucknow University from where she completed her BA in Political Science and English Literature with 67%. On graduating from the Lucknow University, she moved to New Delhi to do her Masters in English Literature from JNU. She is currently pursuing her PhD from the JNU itself, the library of which is popularly known as the UPSC hall. Shuchita recognises the importance of educational institutions known for excellence but does not shy away from saying, "It's not the institutions that make individuals. It's the people who make institutions."
Advice to IAS aspirants
Quoting Rig-Veda, Shuchita says, "Let noble thoughts come to us from all sides." She also identifies with Gandhi's talisman as she understands the importance of a civil servant whose decisions can affect the entire nation in some way or the other. Shuchita has a word of advice for IAS aspirants as she suggests, "Think about the nation. Try to develop a vision. Never lose hope and with strong determination and hard work, there is nothing that will stop you from succeeding in UPSC exam and life." She further adds, "You could well be the first person from your school or college to crack the Civil Services exam."