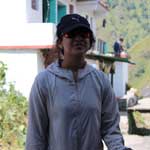 Veditha Reddy daughter of IFS Officer and District President has secured a rank in UPSC Civil Services to become an IAS officer. Veditha Reddy has achieved 71 rank in the UPSC Civil Services 2014. With effort, determination and latent talent one can achieve one's goal in life, said Veditha Reddy, and she was also the district's first woman to crack the UPSC Exam.
Viditha Reddy says that the backwardness of Srikakulam district is the inspiration to her to choose to become an IAS officer. She also like to work for the empowerment of Women. Veditha said that her inspiration is her parents motivated her to take AP cadre as her first option.
Interestingly, All the Top 4 Ranks have been occupied by Women (Ira Singhal, Renu Raj, Nidhi Gupta and Vandana Rao). Suharsha Bhagat is the only male candidate in Top 5 and he attained 5th Rank.
Must Read: Inspirational Story of Tailor's Son – Nirish Rajput IAS
Marks Obtained
| | | |
| --- | --- | --- |
| |  Total Marks |  Marks Obtained |
| Total (Written) |  1750 | 797 |
|  Interview | 275 |  165 |
|  Total |  2025 |  962 (47.51%) |
Family Background of Veditha Reddy
Veditha Reddy is a daughter of a Karnataka Forest Department officer Reddy Nagabhusan Rao and YSRCP Srikakulam District President Reddy Shanthi Kumari. It was a proud moment for her mother as her daughter Veditha Reddy got selected in the UPSC Civil Services Examination. Veditha Redy quoted her father Reddy Nagabhushan Rao, an IFS officer and her mother Shanthi Kumari as a major pillar of her success.
On the occasion, Veditha Reddy said she had chosen the IAS with an aim to do social service. She said that her parents also encouraged her towards achieving her aim. She also expressed her gratefulness to all those who blessed her.
You Might Also Like: Meet Tina Dabi IAS Topper 2015 – 2016
Educational Background
Veditha Reddy completed her schooling from Dhadranagar and later shifted to Delhi Sanskriti Vidhyalaya for Secondary and Higher secondary education. Veditha Reddy is an engineering graduate in Electronics and Communications from Srikakulam district.
Veditha Reddy of 23 years had campaigned in support of her mother, who contested for the MP seat of Srikakulam during the general elections in AP during 2014. Veditha said that this campaign had inspired her to think what she can do to the oppressed sections of the society and to choose the Civils path. She participated in awareness camps in Ambedkar University and Padmavati Degree College in Narasannapeta.
Also Read: Inspiring Story of Kerala's Lipin Raj M.P who Cracked UPSC Exam
Optional Paper
Veditha Reddy took Anthropology as her optional paper though she was an engineering student. The students should choose interesting subjects to get good rank although they are studying other courses.
Attempts
Veditha Reddy, an engineering graduate from Srikakulam district, was all set to become an IAS officer by bagging AIR-71 in the elite Civil Services Exams. She got selected technically in her first attempt after pursuing her Engineering.
Read Also: Mohammed Ali Shihab IAS: An Inspiring Journey from Orphanage to UPSC
Message for Aspirants
Andhra Pradesh women's top ranker of Civil Services Veditha Reddy said IAS can be achieved when aspirants would strongly believe their strengths and study in a systematic manner under the guidance of experts. She asked the candidates not to lose hope and never give scope for disappointment.
There is no substitute for hard work.
A Civil Aspirant has to compete with himself and bring the best out of him.
The number of hours one spends studying per day is not particularly important.
Stay motivated and surrounded by positive and optimistic people.
Aspirants should not give any scope for disappointment during their preparation. That is the fundamental rule.
Understand the subject thoroughly and study the previous question papers and take the help of faculty in answering the model papers.
Don't Miss: Meet Sanjukta Parashar, Rare Daring IPS Officer from Assam