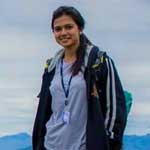 Ananya Das from Odisha clinched All India Rank 16th and emerged as the State topper in the Union Public Service Commission (UPSC) Exam. This was her dream which came true only because of her hard work.
Ananya Das says, " she was little sure to get this position in IAS Mains Examination and she wish to work for welfare of people specially girls and poor children besides her administrative duties".
Marks Obtained
| | | |
| --- | --- | --- |
| | Total Marks | Marks Obtained |
| Total (Written) | 1750 | 815 |
| Interview | 275 | 179 |
| Total | 2025 | 994 (49.09%) |
Family Background
Ananya Das is an elder daughter of an RBI officer posted in Jaipur.
Educational Background
Ananya Das did her dual degree course in B.Tech in Computer Science and M.Sc in Economics from Birla Institute of Technology and Science, Pilani.
Must Read: Abhijeet Kaplish IAS Topper from Chandigarh – A Role Model for Youth
Past Experieces
Ananya Das worked with the Database Team of Oracle Server Technologies as a Software Engineer in Oracle India Pvt. Ltd for 8 months in Bengaluru. She was an Executive Intern in Reserve Bank of India (RBI) for 3 months in Jaipur. She worked on a paper on Financial Contagion and Regulatory Responses. This was later published in The Indian Banker.
Attempts
Ananya Das cracked Civil Services Exam in her very first attempt after quitting job of a software company.
Optional Paper
Ananya Das made a choice of Political Science and International Relations (PSIR) as an optional paper which was based solely on interest. Coming to Political Science preparation, she says she was an engineer by training and she have no background in political science. There may be many more sources to study from but she tried to restrict herself to a limited number due to paucity of time. She believes that it is most important part to practice answer writing for optional paper separately.
Read Also: Neha Kumari IAS – Rank 26 in Civil Services Exam 2014
Preparation Strategy by Ananya Das
Ananya Das started reading basic stuff in 2012 end. She took coaching for Political Science at Vajiram. Some of the basic preparation strategy which Ananya Das followed are:
Please the Examiner
This one person holds the key to your success. It is not only fair but also logical for you to make your life as easy as possible. Remember that they are not doing you a favour by checking your answer-sheet. Its your job to generate their curiosity and then grasp their attention. Try and make your answer sheet the most pleasing one in the stack.
Keep points ready
Answer writing has two parts – first and the more critical one is the recollection and organization that takes place in our heads and the second part is pure execution of the same. The whole exercise of retention and retrieval of points in your mind are very very important. While writing one point, you should plan about your next ones. The faster you think, the faster you write.
Stick to your time schedule
Sticking to the time schedule is very important so that you can do justice to every question. Remember that attempting all questions well will fetch you much more marks than writing a thesis on 3-4 questions. Keep it in mind that your watch is your friend
Innovate and Interlink
Especially in a subject like Political Science where there are so many connections, linking events can fetch you more marks. Give examples to reinforce your points which will add weight to your answer, using key terms which you may have picked up from newspapers can help. Train your mind to form a web of information
Practice! Practice! Practice!
Needless to say, all of the above aspects can only be covered through study, planned revision and practice in answer writing. Do a little more when you think it is enough.
Tips for Young Aspirants
Self notes are useful if you think your material is not organised and needs to be consolidated. Its time taking but is often helpful.
Buy past years question papers of political science and try to write holistic, balanced answers.
Try to observe the pattern and focus areas, especially in the recent years.
With time, you should be able to plan an answer roughly before you put it on paper.
Don't Miss: Aboli Naravane IAS Tops in Maharashtra