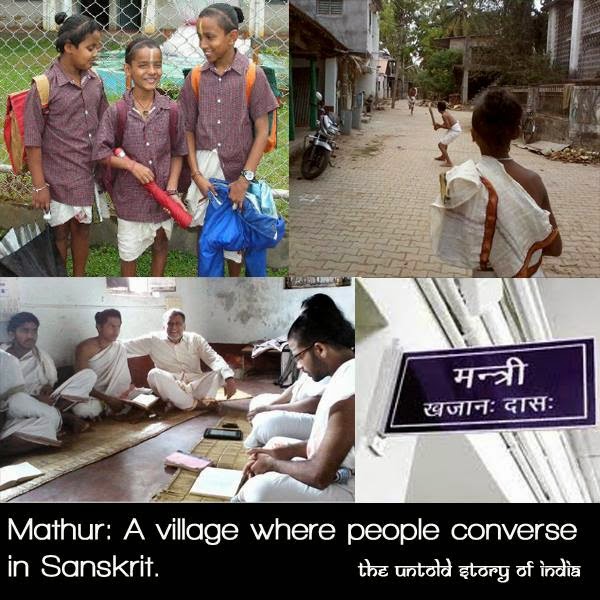 Mathur, a culturally rich village on the banks of the river Tunga in Karnataka. Villagers use Sanskrit here for their day to day conversation and not just during poojas.

It is one of the two villages in India where Sanskrit is the official language. The villagers speak a dialect called Sanketi, which is a mixture of Sanskrit, Tamil and Kannada. It has no written script.

There is a village paatashala, which teaches chanting of Vedas in the traditional way, especially Krishna Yajur Veda along with other ritualistic rites from Bodhayana sutras and Aabhasthamba sutras. Other rituals for yagnas are conducted for learning purposes.
An example of their brilliance was seen when they told about this famous verse from Bodhayana Sutra of the Shulba Sutra (around 4000 BC) in Mathematics, 'Deergachatursasyaa akshanyaa rajjuh: Paarsvamanischa Thiryakmani cha. Yatpruthagbhute kuruthasthatubayam karoti.' It is nothing but a Pythogaras' theorem stated in Shulba Sutras, 1000 years before Pythogoras wrote it. Venkatesh avadhaani( a sanyasi, whose knowledge of Sanskrit is amazing) explained it by drawing a rectangle and a diagonal with a chalk on the floor of his house and showed how these Sanskrit words state that the area of the square on one side of the diagonal is equal to the area of the sum of squares on the side and base of that rectangle.
A Japanese gentleman has been attending the classes for the last couple of years, learning and writing advanced Vedic scriptures.
Source : The Untold Story of India