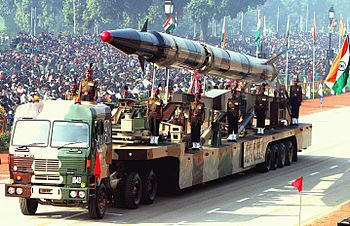 The Strategic Forces Command of the Indian Army successfully test-fired the Agni-II ballistic missile on April 7, 2013.
Having lifted off from a mobile launcher on Wheeler Island off the Odisha coast, the missile travelled its entire course of 2,000 km before splashing into the designated area in the Bay Bengal with an accuracy of a few metres. It was hailed as a perfect mission, with the entire flight lasting over 10 minutes.
The Defence Research and Develop­ment Organisation (DRDO) said in a statement that everything went off well, during the test-flight. Electro-optical systems monitored the flight. Two ships stationed down range saw every stage of the mission, including the final event of the missile's splash-down. Its fully indigenous, highly accurate navigation systems took the missile to a few metres off the targeted location.
Agni-II, which is capable of earning nuclear warheads, is 20 metres long and weighs 17 tonnes. The missile has been developed by the DRDO. Its two stages are Propelled by solid fuel. it can carry a payload weighing one tonne.