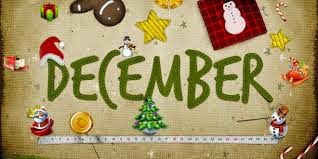 December starts on the same day of the week as September every year and ends on the same day of the week as April every year.
The name December originates from the Latin word decem, which means ten. December was the tenth month of the year in the Roman calendar.
 On December 3, 1967, the first heart transplant was completed.
The Observer, a British newspaper, was first published in December.
The American Bill of Right was passed in December.
In some culture, December 28th is considered to be the unluckiest day of the year.
The first artificial Christmas tree was made in Germany, fashioned out of goose feathers that are dyed green!
Spiders and spider webs are considered good luck on Christmas.
"Jingle bells" was composed in 1857, and not for Christmas – it was meant to be a Thanksgiving song!
An almanac prediction states that if snow falls on Christmas Day, Easter will be warm, green and sunny. December often marks the beginning of rain, snow, and cold weather.
The first day of winter is on either December 21 or 22. This is the shortest day of the year and the longest night. It is called the winter or Southern solstice in the Northern Hemisphere.
World's AIDS Day is celebrated on December 1st.
On 10th December, Nobel Prizes are awarded.
On December 17, 1903, the Wright Brothers made their first flight.
31st December is the last day of the year. It is New Year's Eve. Many people see the old year out with a party, welcoming in the New Year with toasts of champagne, and exchanging good wishes for a 'Happy New Year'.
The hugs are meant to be  a random act of kindness, a selfless act performed just to make others feel better. This year's International Free Hugs Day is celebrated on Dec 4.
Forefathers' Day is a holiday celebrated in Plymouth, Massachusetts, on December 22. It is a commemoration of the landing of the Pilgrim Fathers in Plymouth, Massachusetts, on December 21, 1620. It was introduced in Plymouth, Massachusetts, in 1769.
The stock market tends to do better in December than any other month. This has been put down to something called the 'Santa rally'.
December is the month when couples argue the most.
Also, Read: