What is Coronavirus?
The coronavirus is a family of viruses that can cause a range of respiratory illnesses in individuals including the common cold and more critical forms like SARS (Severe acute respiratory syndrome) and MERS (Middle East respiratory syndrome) which are life-threatening. The virus is named after its shape which takes the form of a crown with protrusions around it and hence is known as coronavirus. this particular virus is never seen before.
What are the symptoms?
The symptoms of most coronaviruses are similar to any other upper respiratory infection. As this is viral pneumonia, antibiotics are of no use. Those who have fallen ill are reported to suffer coughs, fever and breathing difficulties. In severe cases, there can be organ failure.
Is it transmitted from one person to another?
China's national health commission confirmed that this virus is transferred from one person to another. As of 27 January, the Chinese authorities had acknowledged more than 2,700 cases and 56 deaths.
Places with confirmed cases of coronavirus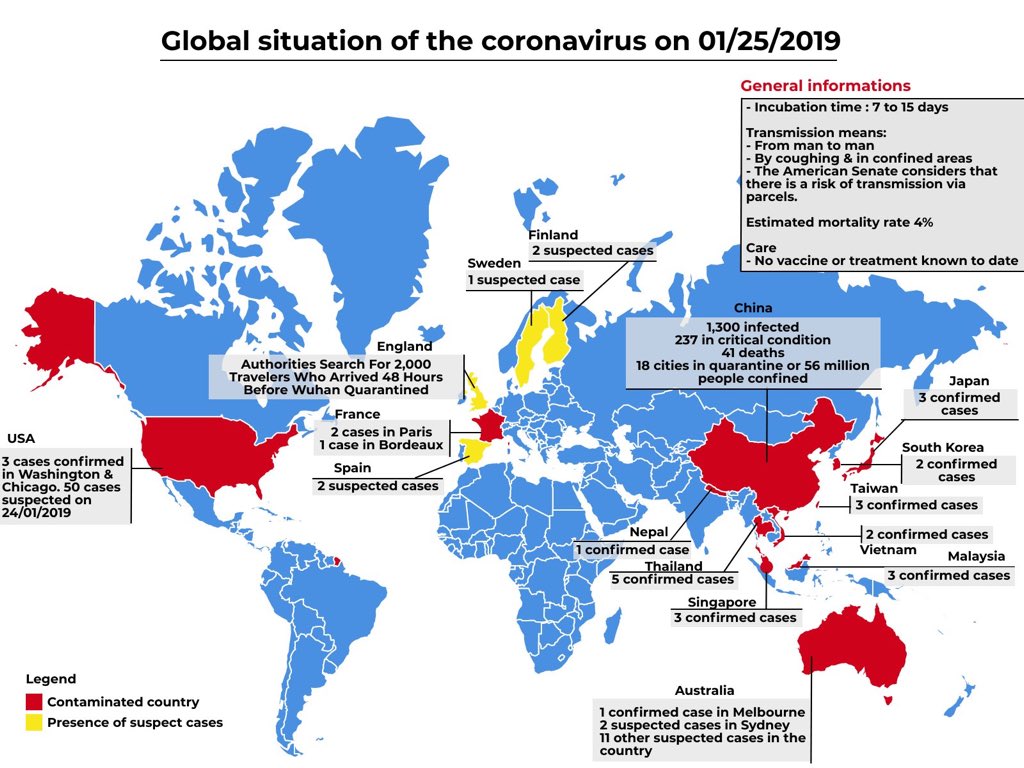 The confirmed case is found in 13 provinces, as well as the municipalities Beijing, Shanghai, Chongqing and Tianjin. The virus has also been confirmed outside China, in Hong Kong, Macau, Japan, Nepal, Singapore, South Korea, Taiwan, Thailand, the US, and Vietnam. There have not been any confirmed cases in the UK at present
The outbreak of coronavirus
The current outbreak of coronavirus is believed to have happened in a market for illegal wildlife in the central Chinese city of Wuhan. WHO is closely monitoring this event and is in active communication with counterparts in China.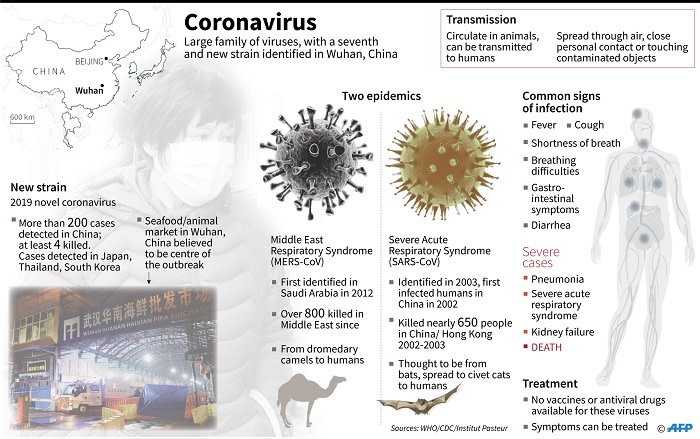 Prevention and treatment from virus
There is currently no vaccine to prevent this infection. The best way to prevent infection is to avoid being exposed to this virus. Everyday preventive steps to help prevent the spread of respiratory viruses are:
Wash your hands with water and soap. If soap and water are not accessible, apply an alcohol-based hand sanitizer.
Avoid touching your eyes, nose, and mouth with dirty hands.
Avoid close touch with people who are sick.
Cover your cough or sneeze with a tissue, then throw the tissue in the garbage.
These are everyday habits that can help prevent the spread of the virus.
You may like to read: Zika virus alarming spread in Past