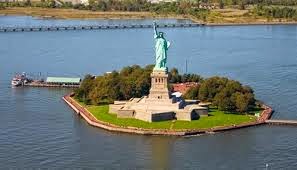 The Statue of Liberty is located on Liberty Island, in the New York harbor, USA. The Statue of Liberty commemorates the American Declaration of Independence and was a gift from the people of France.
The statue was assembled on its pedestal after being constructed in France and sent to the US in crates.
It was dedicated on October 28, 1886.
The Statue of Liberty was designed by French sculptor Frederic Bartholdi.
The female form represented by the sculpture is based on Libertas, the Roman goddess of liberty. She holds a torch and a tabula ansata (tablet) that has the date of the American Declaration of Independence inscribed in it (July 4, 1776).
A broken chain also lies at the feet of the statue which is hard to see from the ground.
The official name of the Statue of Liberty is 'Liberty Enlightening the World'.
The statue has been closed for renovation a number of times, including between 1984 and 1986 when the torch and much of the internal structure was replaced.
The Statue of Liberty stands 151 feet (46 metres) in height, and 305 feet (93 metres) from the ground to the torch.
The head of the statue was displayed at the World's Fair in Paris, 1878.
There was difficulty in the United States finding money to fund the project, especially after a financial crisis in 1873. A fundraising drive led by newspaper publisher Joseph Pulitzer was embraced by New Yorkers and helped push work forward. 80% of the donations were of less than $1.
Liberty Island was previously called Bledloe's Island.
There are replicas of the Statue of Liberty found in Paris, Las Vegas and many other cities around the world.
The Statue of Liberty celebrates her birthday on October 28th in honor of the day she was officially accepted by the president of the United States in 1886.
Visitors must climb 354 stairs to reach the Statue of Liberty's crown (or take an elevator to a lower lookout point).
There are 25 windows in Lady Liberty's crown.
The seven spikes on the Statue of Liberty's crown represent either the seven oceans or the seven continents.
The statue is made of copper and is now green in color because of oxidation (a chemical reaction between metal and water) from evaporation of the seawater surrounding it.
Edouard de Laboulaye provided the idea for the statue, while Frederic-Auguste Bartholdi designed it.
The Statue of Liberty became the symbol of immigration during the second half of the 19th century, as over 9m immigrants came to the United States, with the statue often being the first thing they saw when arriving by boat.
The island in which it stands was previously called Bedloe Island, but its name was changed in 1956 to Liberty Island.
Also Read: 
Fast facts about the United States Constitution Day
Amazing and Interesting facts about Black History Month