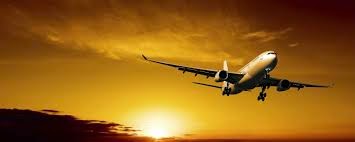 Interesting Facts about Airports, Airlines and Air Traveling
All International Airline Pilots speak English.
Flights longer than 8 hours require 3 pilots (1 captain and 2 first officers) to rotate flying duties. Flights longer than 12 hours require 4 pilots (1 captain and 3 first officers). They usually fly 3-4 hour shifts.
Each airline pilot flying the aircraft eats a different meal to minimize the risk of all pilots on board being ill.
The height requirement for Flight Attendant is for safety reasons, making sure that all flight attendants can reach overhead safety equipment.
An air traveler can lose approximately 1.5 liters of water in the body during a three-hour flight.
The reason why the lights are turned out during takeoff and landing Is for your eyes to adjust to lower levels of light.
The World's largest Airline in terms of Fleet Size is Delta Airlines (United States) with 744 aircraft and 121 aircraft on order.
The largest passenger plane is the Airbus 380 – nearly 240 feet long, almost 80 feet high, and has a wingspan of more than 260 feet. The double-decker plane has a standard seating capacity of 555 passengers.
The Internet/On-Line check-in was first used by Alaskan Airlines in 1999.
The world's Largest Airport is Kansai International Airport, Osaka, Japan (as of 2011). By 2013 Al Maktoum International Airport in Jebel Ali, Dubai, United Arab Emirates is planned to be the largest airport in the world.
The airport with the longest runway in the world is Qamdo Bangda Airport in the People's Republic of China with 5.50 kilometers in length.
Singapore Airlines spends about $700 million on food every year and $16 million on wine alone. First class passengers consume 20,000 bottles of alcohol every month and Singapore Airlines is the second largest buyer of Dom Perignon champagne in the world.
KLM of Netherlands stands for Koninklijke Luchtvaart Maatschappij (meaning Royal Dutch Airlines).
KLM is the world's oldest airline established in 1919.
QANTAS – Australia's national airline originally stood for Queensland and Northern Territories Air Service.
QANTAS is the second world's oldest airline established in 1920.
QANTAS still has the world's best safety record with no crashes.
Virgin Atlantic lists catering as their third biggest expense, after fuel and maintenance.
In one year, British Airways passengers consume 40.5 tons of chicken, 6 tons of caviar, 22 tons of smoked salmon, 557,507 boxes of chocolate and 90 thousand cases (9-liter cases) of sparkling wine.
Also, Read:
Facts about Air Travel in India