Jigyasa Programme is a student -scientist connect programme in order to develop interest among students to pursue science as a career whereby nearly 1200 Kendriya Vidyalaya will be connected to 38 CSIR Research Laboratories across the country. The focus is on connecting school students and scientists so as to extend student's classroom learning with that of a very well planned research laboratory based learning.
Implementing Agency
JIGYASA PROGRAMME will be implemented by Council of Scientific and Industrial Research in collaboration with Kendriya Vidyalaya Sangathan.An agreement in this regard had been signed between Ministry of Science and Technology and Ministry of Human Resource Development.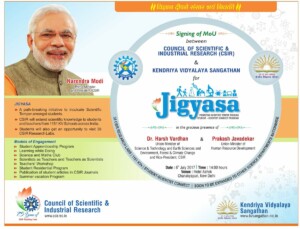 Important Facts
1.Jigyasa programme was inspired by Prime Minister Narendra Modi's vision of a new India and "Scientific Social Responsibility (SSR)" of scientific community and institutions.
2.It would address the twin objectives of inculcating scientific inquisitiveness and scientific temper (which is also a fundamental duty under Indian Constitution) among the school students and teachers.
 The Programme is expected to connect 1151 Kendriya Vidyalayas with 38 National Laboratories of CSIR targeting 100,000 students and nearly 1000 teachers annually.
4.The programme will give an opportunity to students and teachers to practically gain an insight into their theoretical concept by visiting  CSIR Laboratories and mini science projects. The model of engagement includes:
Student Residential Programmes;
Scientists as Teachers and Teachers as Scientists;
Lab specific activities / Onsite Experiments;
Visits of Scientists to Schools/Outreach Programmes;
Science and Maths Clubs;
Popular Lecture Series/ demonstration programme at Schools;
Student Apprenticeship Programmes;
Science Exhibitions;
Projects of National Children's Science Congress;
Teacher Workshops; and
Tinkering Laboratories.
5.CSIR  will also launch a talent Hunt among the students visiting their labs under the Jigyaasa for furthering the cause of scientific development.
Analysis
JIGYASA PROGRAMME is a far sighted scheme develop scientific spirit among the students so that India's urgent need of scientific development to become technology demonstrator of the world will be fulfilled.Along with other schemes like INSPIRE, it can really change the scenario of scientific education in India.